Woman bailed in Milton Keynes fatal house fire case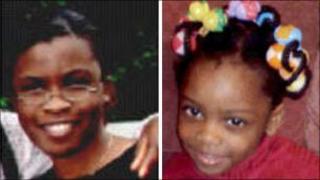 A woman has been released on bail while an investigation continues into a house fire in Milton Keynes that left a mother and her daughter dead.
The bodies of Bola Ejifunmilayo, 29, and her daughter Fiyin, 3, were found in the house in Fishermead on Monday.
A 48-year-old woman from Corby, Northants, was arrested on suspicion of arson and bailed until 4 October.
Five separate groups are believed to have been living at the house which was not licensed for multiple occupancy.
Milton Keynes Council said an investigation in 2009 showed it was occupied by a single family.
Floor collapsed
One woman was rescued from the fire which broke out in the early hours of Sunday morning.
A firefighter was injured trying to enter the bedroom in which the bodies of Ms Ejifunmilayo and Fiyin, both from Nigeria, were later found.
He fell to the level below when a floor collapsed and was taken to hospital. He was treated for arm and shoulder injuries.
Milton Keynes Council said: "From information provided by Thames Valley Police and Buckinghamshire Fire and Rescue Service, the property... appears to be an unlicensed house in multiple occupation.
"All councils have a responsibility to inspect and regulate any reported instances of houses of multiple occupation, and rely on information from a number of sources including the public to do so.
"We have not received any information about this property since we conducted our own investigation in January 2009 and were satisfied that it was occupied by a single family at that time."