Son who buried father under concrete guilty of murder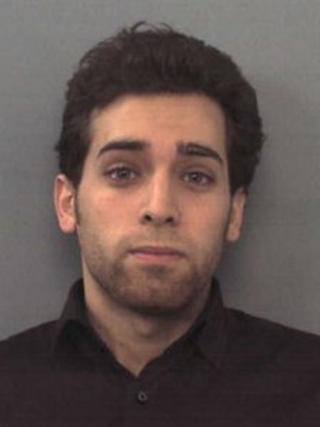 A man has been found guilty of murdering his father, whose remains were found in concrete in a garden in Buckinghamshire.
The body of Samuel Alexander, 70, of Drayton Parslow, was found buried in his garden.
A jury convicted Mark Alexander, 22, of Fleet Street, London, by a majority verdict at Reading Crown Court.
Egyptian-born Samuel Alexander, a retired university lecturer, was also known as Sami Yacoub El-Kayoubi.
The remains of Mr Alexander were found by police searching the property in February this year, days after he was reported missing by neighbours.
'Denied wrong-doing'
It is thought he had been killed as long ago as August last year.
Alexander had killed his father so he could escape his influence and "lead the life he wanted to lead", the court heard.
The defendant, who won a scholarship to Rugby School aged 16, was in the third year of an English and French law degree at Kings College, London, when he was arrested in connection with the murder.
Alexander denied any wrong-doing, claiming his father was still alive and living with friends in London.
He sent Christmas cards to some of the neighbours last year and signed them from his father, to keep up the pretence he was alive and well.
Alexander claimed during the six-week trial that someone else must have committed the murder.
But prosecutor John Price told the jury of six men and six women: "It was his son Mark who had disposed of his father's body and that then, his father being out of the way, Mark started to lead the life that he wanted to lead."
Mr Alexander was described as a "cantankerous" man who was so careful with money he recorded every financial transaction he made in his diary.
He was "very ambitious" for his son, who won the scholarship to the prestigious Warwickshire independent school to study at its sixth form.
As a young boy, Alexander was not allowed to play with other children in the cul-de-sac of Prospect Close, and had no contact with his mother after his parents' separation.
Mr Price said: "Samuel kept himself and his son apart.
"The picture is of the father and son living together in this house, more or less isolated from those who lived around and about him."