Police helicopter used to hunt man seen gathering twigs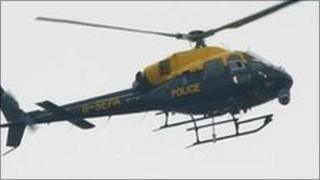 A man has criticised a decision to send a police helicopter to his house after he took twigs from a nature reserve.
Gareth Pope was gathering kindling at the Chinnor Hill Nature Reserve near Princes Risborough in Buckinghamshire on Monday when a warden challenged him.
He said he could see no harm in gathering the wood.
Thames Valley Police dispatched the helicopter after a warden reported a heated row before the phone line went dead, prompting fears for his safety.
Mr Pope was later told no crime had been committed.
The 41-year-old told BBC Three Counties he was concerned a helicopter had been called out to find him. It is thought the helicopter cost about £350 for the 40 minutes flying.
"It was crazy, absolutely crazy," he said. "It was a waste of money."
'Film star'
Mr Pope said when police went to his home in Princes Risborough, he asked them if the helicopter hovering above his house had been looking for him.
He said the officers told him it had been and he had become a "film star".
He said he had only been gathering dead wood and twigs with his wife and five-year-old twin girls.
The force said in a statement that the warden had called police saying he had been involved in a heated confrontation with the man, but the call was disconnected.
As police were unable to get back in contact with the warden, the force helicopter, based at RAF Benson, was mobilised shortly after 1530 BST because of concern for the warden's safety.
Police said the nearest ground unit was at least 15 minutes away and the helicopter was able to be at the scene within five minutes.
"The helicopter surveyed the nature reserve before being dispatched to an address in Princes Risborough, Buckinghamshire, where the car seen at the nature reserve was located," said police.
'Swift conclusion'
"Officers spoke to a man about the earlier disagreement and it was subsequently found that no offences had been committed."
Doug Mackay, Chiltern Air Support Unit executive officer, said: "Information available to police suggested that a crime was in progress with a suspect still at the scene in a rural area.
"The decision was made to dispatch the helicopter as it was only minutes away and there was a concern for the safety of those involved.
"The crew were able to quickly take command and control of the situation and brought the incident to a swift conclusion."