Businesses 'resilient in Milton Keynes and St Albans'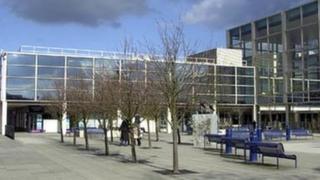 Business is booming in Milton Keynes and St Albans, which look in strong positions to cope with any future spending cuts, a study has found.
The Experian research, commissioned by the BBC, found the council areas were some of the least vulnerable to any cutbacks in the East of England.
Milton Keynes has also seen high numbers of new businesses since 2008.
Both council areas have benefited from good road links and easy access to London.
Mel Hilbrown, director of St Albans and District Chamber of Commerce, said: "It's always been quite entrepreneurial as an area.
'Small firms resilient'
"In the last five to 10 years, it's had a high number of business start-ups."
He said the recession had provided opportunities for small businesses in the area, and the city's proximity to London helped them.
"Even in the financial recession, things that the larger companies were not so interested in, there were businesses in St Albans starting to develop that niche.
"Small businesses can often be more resilient in a recession."
Milton Keynes has the highest number of foreign-owned firms in the BBC's East of England region (the 25th highest number in England) and one of the highest numbers of growing businesses, the research suggests.
Jenni Ferrans, cabinet member for economic development on Milton Keynes Council, said the area was well-placed to cope with any downturn.
"We have good communications links [with the rest of the UK] so we have every reason to believe business growth will continue," she said.
Ms Ferrans said the area also had a number of companies involved in sustainable energy - a business "which will keep going no matter what".
But she stressed there were some problems with unemployment among people with low skills which the council was addressing.
'Mix of businesses'
Rita Spada, the chief executive of Milton Keynes and North Buckinghamshire Chamber of Commerce, said the area attracted business because it was well-placed on key road and rail networks.
Milton Keynes was created as a new town at the end of the 1960s.
It has always had a good mix of businesses, said Ms Spada.
"It attracts investment and draws on a strong regional centre," she said.
"Businesses have access to a highly skilled workforce... and strategic transport links."
She said Milton Keynes had the advantage of easy access to the ports of Felixstowe and Harwich.
Ms Spada said public sector cuts would hit the economy in the area, but not as much as some areas more dependent on state spending such as many parts of northern England.
Peter Barber, chairman of Milton Keynes-firm WH Barley Transport and Storage, said the business, which started in the 1970s, was not affected by any of the UK recessions until 2008.
In that year the firm had to make about 15 people redundant.
But since then business has picked up and they have recently taken on 12 people.
"We are still worried, a little bit, that there might be a double dip, but (the government cuts) were not so bad as we though when they first mentioned cuts," said Mr Barber.
He said the work seemed to still be coming in from companies wanting to transport goods.
But he added: "We are still keeping costs down which everybody has to do."
BBC Three Counties will be broadcasting a debate on the State of the Region from 0900 BST on Friday.