Extinction Rebellion protest at banks in Oxford and Reading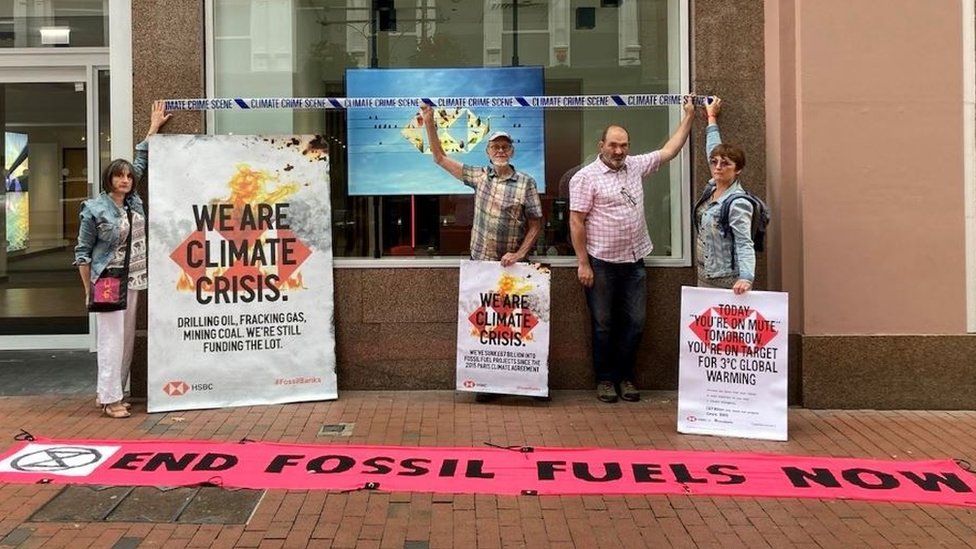 Extinction Rebellion has protested against banks for funding the use of fossil fuels.
A group occupied Barclays in central Oxford on Wednesday by sitting in the foyer with a banner that said the bank "funds climate famine".
Separate protesters from Reading also stood outside HSBC on Broad Street on Monday with fake police tape that read "climate crime scene".
Both banks said they were committed to achieving their environmental goals.
Extinction Rebellion said it was in the Oxford branch of Barclays because the bank "is the biggest fossil fuel finder in Europe, and finances Shell & Exxon Mobil's exploration of new oil & gas".
One of the protesters read out a statement that said: "By funding fossil fuels, Barclays is making our climate more dangerous, which is killing people now."
The members of Extinction Rebellion in Reading were gathered outside HSBC on Broad Street on Monday for its reopening after a three-month refurbishment.
Along with fake police tape, protesters also displayed false HSBC advertising that said "today, you're 'on mute', tomorrow you're on target for 3C global warming", according to the Local Democracy Reporting Service.
A Barclays spokesperson told the BBC: "We are determined to play our part in addressing the urgent and complex challenge of climate change."
They said: "We have a three-part strategy to turn that ambition into action: achieving net zero operations, reducing our financed emissions, and financing the transition."
The spokesperson added that the bank has set 2030 targets to reduce our financed emissions in four of the highest emitting sectors in our financing portfolio as well as investing billions in green financing and green start-ups.
A spokesperson for HSBC UK told the BBC: "We remain committed to supporting our customers in their transition to net zero.
"HSBC has an important role in the transition to a more sustainable world."
They added that the bank plans to reduce emissions to net zero in its operations, supply chain and the financed emissions of customers by 2050 or sooner.
Related Internet Links
The BBC is not responsible for the content of external sites.