Rolls-Royce: Six sites shortlisted for nuclear reactor factory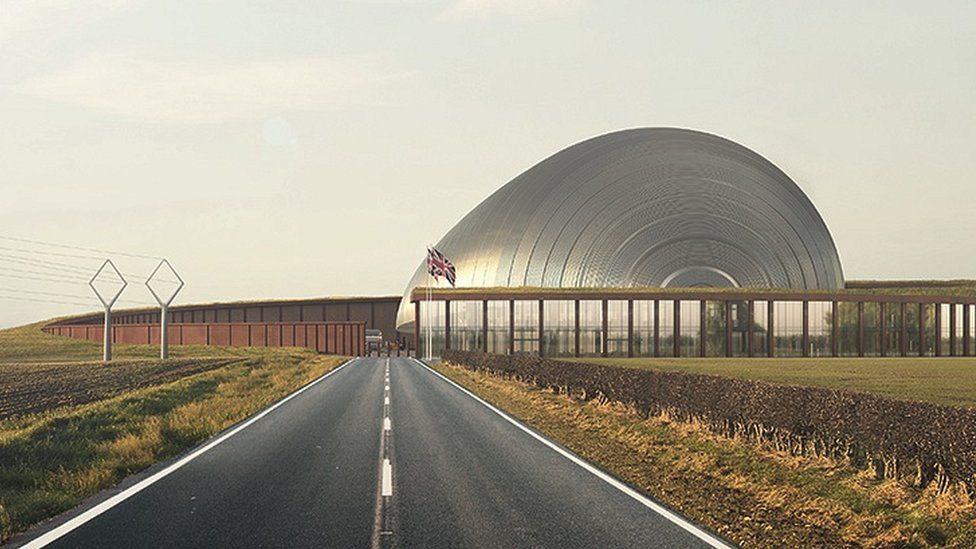 Engineering firm Rolls-Royce has shortlisted six sites for a major new factory building nuclear reactors.
The government wants to build 16 Small Modular Reactors (SMRs) in the next 25 years to secure the UK's energy supply and hit its net-zero target by 2050.
They would be built on a production line and assembled at existing sites.
The potential factory locations are: Richmond in North Yorkshire, Deeside in Wales, Ferrybridge, Stallingborough in Lincolnshire, Sunderland and Carlisle.
Two more factories would then follow.
Rolls-Royce SMR chief executive Tom Samson said it had had a "fantastic" response to calls for suggestions of where the site could be, which showed the "ambition and appetite of the UK" for the reactors which would "provide affordable, low-carbon electricity for generations to come".
He added the final location would get "significant investment" and "long-term high-skilled jobs".
Rolls-Royce was previously backed by a consortium of private investors and the UK government to develop the reactors.
The creation of the Rolls-Royce Small Modular Reactor (SMR) business was announced in November following a £195m cash injection from private firms and a £210m grant from the government.
It is hoped the new company could create up to 40,000 jobs by 2050.
Small modular reactors are nuclear fission reactors but are smaller than conventional ones.
Rolls-Royce SMR said one of its power stations would occupy about a tenth of the size of a conventional nuclear plant - the equivalent footprint of two football pitches - and power approximately a million homes.
The firm said each reactor would have the capacity to generate 470MW of power, which it added would be the same produced by more than 150 onshore wind turbines.
SMRs are thought to be less expensive to build than traditional nuclear power plants because of their smaller size.
At an expected cost of about £2bn each, SMRs would cost less than the £20bn earmarked for a larger plant under construction at Hinkley Point.
Related Internet Links
The BBC is not responsible for the content of external sites.