MH17 crash: Passengers were unlawfully killed, coroner concludes
By Caroline Lowbridge
BBC News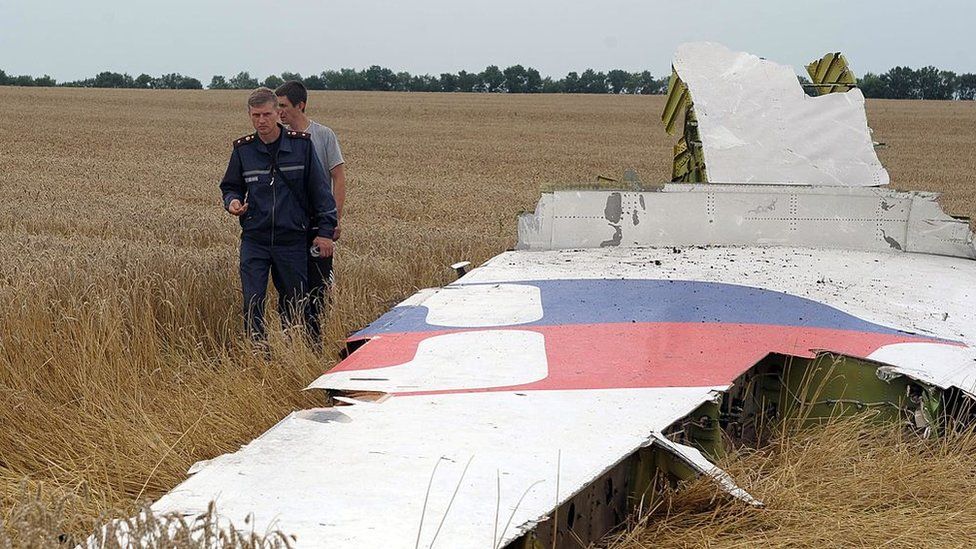 Five British citizens were unlawfully killed when Malaysian Airlines flight MH17 was shot down in eastern Ukraine, a coroner has concluded.
A joint inquest into the deaths of five of the 298 on board has been held in England, where their bodies were repatriated to.
The court heard evidence that a Buk missile was fired from Ukraine by pro-Russian separatists.
It exploded in front of the cockpit of the aircraft, the inquest heard.
Fragments of the missile then killed crew members in the cockpit and caused significant damage to the aircraft, causing it to break up.
The inquest was held in Leicester for the following five passengers:
Liam Sweeney, a 28-year-old student from Newcastle upon Tyne
Richard Mayne, a 20-year-old student from Leicester
Glenn Thomas, a 49-year-old spokesperson for the World Health Organization, who was from Blackpool
John Alder, a 63-year-old retired British Telecom worker, from Gateshead
Ben Pocock, a 20-year-old student from Bristol
The aircraft was travelling from Amsterdam to Kuala Lumpur on 17 July 2014 when it was shot down.
All of the 283 passengers and 15 crew members were killed. Of those who died, 10 were British.
The inquest heard evidence from Det Ch Supt Dominic Murphy, from the Counter Terrorism Command (SO15) of the Metropolitan Police.
He said a criminal investigation taking place in The Hague had identified four individuals as possibly being responsible for the missile, and they were being tried in their absence.
"MH17 departed from Amsterdam and it had been flying for about three hours when it lost contact with air traffic control," he said, summarising an investigation by the Dutch Safety Board.
He said the missile exploded in front of the cockpit of the aircraft, and fragments penetrated the aircraft on the left hand side of the cockpit.
Fragments of metal were found in the bodies of crew members when their remains were recovered, he said.
He said the missile system appeared to have been smuggled over the border to Ukraine from Russia on 16 and 17 July.
Det Ch Supt Murphy said wreckage from the aircraft and the bodies of passengers were spread over a wide area, which made them "a challenge to recover".
The five victims were identified using dental records, fingerprints and DNA testing, before being repatriated to England.
After hearing all of the evidence, coroner Catherine Mason said: "I am satisfied that MH17 was shot down by a Buk missile that was fired by pro-Russian separatists.
"Taking all of the evidence into account, I have decided that the appropriate conclusion is that Liam Sweeney, Richard Mayne, Glenn Thomas, John Alder and Benjamin Pocock were unlawfully killed."
Tributes from family members were read out at the start of the inquest.
Richard Maine's mother, Liz Maine, said he "lived life on the edge, living life apace and at full throttle as if he knew he was going to die young and had to fit everything in".
She said her family could "find no meaning in Richard's death".
"We can see a randomness but mostly in the light of the recent conflict and atrocities in Ukraine a calculated, sadistic cruelty that has to do with evil and the opposite of all that Richard innately stood for and encapsulated: courage, camaraderie, largess, love, optimism and hope," she said.
Barry Sweeney said his son Liam was obsessed with watching Newcastle United play, and was travelling to see them in New Zealand when he died.
"Liam was the truest fan of Newcastle United and he died doing what he loved most in life," said his father.
"Liam's mum, Angela, never got over losing him, and tragically she passed away on 9 February 2017."
He had been travelling with his friend John Alder, a fellow Newcastle United fan.
In a statement read to the inquest, Mr Alder's brother said he had "come to be recognised as Newcastle United's number one fan", and it was thought he had only missed one first team game in over 40 years.
He collected football programmes and other memorabilia, and these were auctioned after his death, raising £26,000 for the Bobby Robson Foundation.
Tributes were read out on behalf of Glenn Thomas's twin sister and nephew.
They spoke of a generous man who travelled the world and took relatives on trips with him.
"We were blessed to have Glenn in our lives for 49 years and he was such a free spirit," said his sister.
"He has done more in his 49 years than anyone can possibly do in a lifetime."