Yorkshire Arriva bus drivers strike enters fourth week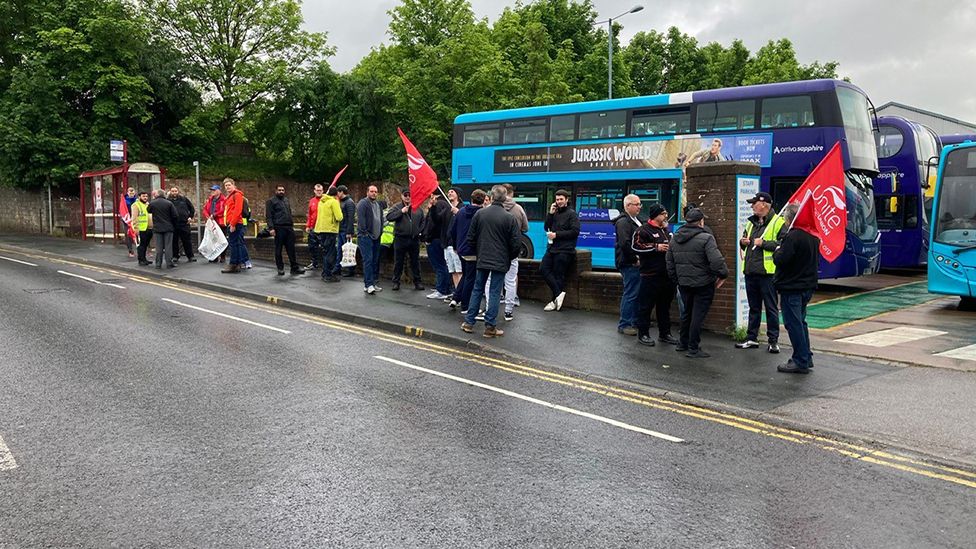 An indefinite bus strike over a pay dispute has entered its fourth week.
Arriva drivers across Yorkshire walked out on 6 June after rejecting an offer of a 4% pay rise.
The Unite union claimed that some drivers were being forced to use food banks and want an "inflation-related pay increase of around 10%".
Arriva made an increased offer of between 8% and 12%, depending on the worker's grade, which the company described as "very fair".
Zoe Croot, who runs a nursery in Rotherham, said she is spending more than £200 a week providing taxis to get her 25 staff to work.
"Without the staff in we can't operate," she said.
"Fortunately, we are able to stay open at the moment, but I don't know how long we are going to be able to carry on doing this."
The walkout is affecting services across West Yorkshire as well as parts of North, South and East Yorkshire.
Around 300 buses are off the road across 132 routes.
In Snaith, East Yorkshire, one woman said the industrial action had left villagers cut off.
"At the moment we can't get anywhere, which is a nuisance," she said.
"We've no trains, my husband can't drive anymore so we have to rely on the buses.
"I know where they [bus drivers] are coming from but it's the public who is suffering."
Unite organiser Phil Bown described the drivers' wages as "poverty pay"
"All we want to do is go back to work, drive buses and do the job we're paid to do," he said.
"But all we want is a reasonable rate of pay to do a professional job."
In a tweet, Arriva Yorkshire said: "We've opened up a positive dialogue with Unite in Wakefield today which we look forward to continuing tomorrow.
"We very much hope this latest conversation will bring a swift conclusion to the industrial action and return to service for our customers."
Related Internet Links
The BBC is not responsible for the content of external sites.