Anglian Water: Swimmers disgusted over firm's £92m payout
By Charlie Jones
BBC News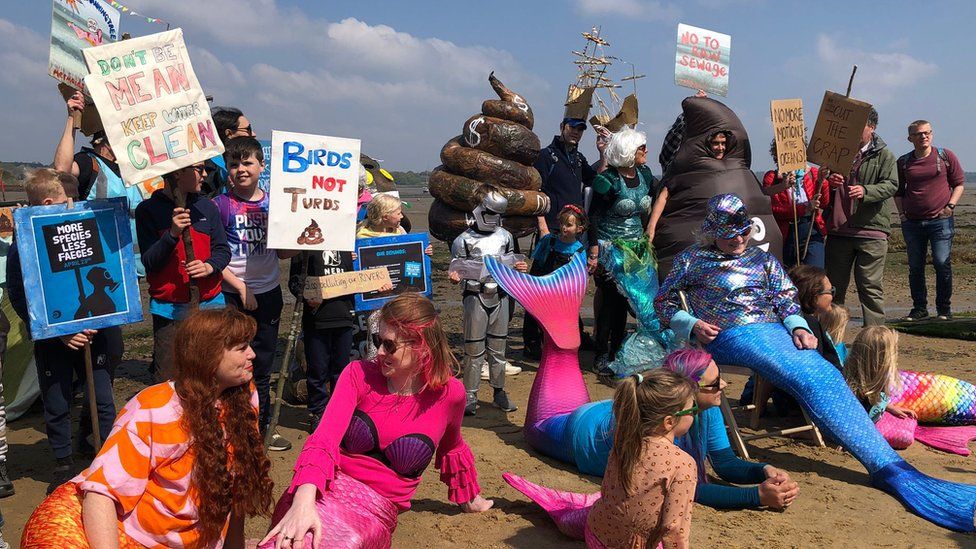 Wild swimmers said they were disgusted to learn a water company paid £92m to its private shareholders, despite being fined for pumping sewage into rivers.
The group, called Mermaids Against Sewage (MAS), swim in the River Stour in Manningtree, Essex.
Anglian Water admitted that it dumped sewage into the river 389 times last year.
The company said the dividends payment, published in its annual report, was the first since 2017.
Dr Jennie Gamlin, Associate Prof of Global Health at University College London (UCL), said the money should have been spent on sorting out the problem of discharging raw sewage into "our beautiful rivers".
"Anglian profiteering is clearly exacerbating pollution by putting profit before people, before the otters, kingfishers, seals and fish of our local waterways," she said.
The group has staged two protests about the amount of sewage being discharged into rivers, which is only meant to happen in exceptional circumstances, for example, during heavy rainfall.
River samples in Manningtree showed an E. coli count of 1000cfu/100ml, with the threshold for good bathing water being less than 500cfu/100ml.
The Environment Agency recently fined Anglian Water for an incident that killed 5,000 fish and another where two sewage pumps failed, killed at least 60 fish in Yaxley, Peterborough, Cambridgeshire, in February 2019.
Campaigner Anna Helm Baxter, who organised the protests, said she was "disgusted" by the firm's behaviour.
"Anglian Water has been fined three times already this year," she said.
"The regulator should be forcing them to invest this money into fixing the problems."
Anglian Water serves more than seven million customers across Bedfordshire, Buckinghamshire, Cambridgeshire, Essex, Lincolnshire, Norfolk, Northamptonshire, Nottinghamshire and Suffolk.
An Anglian Water spokesperson said: "Our shareholders have not received a dividend payment since 2017 and have invested over £1.1 billion into the business.
"Our shareholders are the very definition of patient capital as they represent millions of mainly public sector pension holders.
"Over the last five years they have shared our vision of investing today to ensure the long term resilience of our region.
"Instead of taking a dividend, they have reinvested returns, and wholeheartedly endorsed the changes we made to enshrine environmental and social purpose at the heart of the business.
"We are pleased to now be in a position to repay their faith in us by sharing our financial returns with them."
Related Internet Links
The BBC is not responsible for the content of external sites.