Pollution detector that does not need a lab
David Gregory-Kumar
Science, Environment & Rural Affairs Correspondent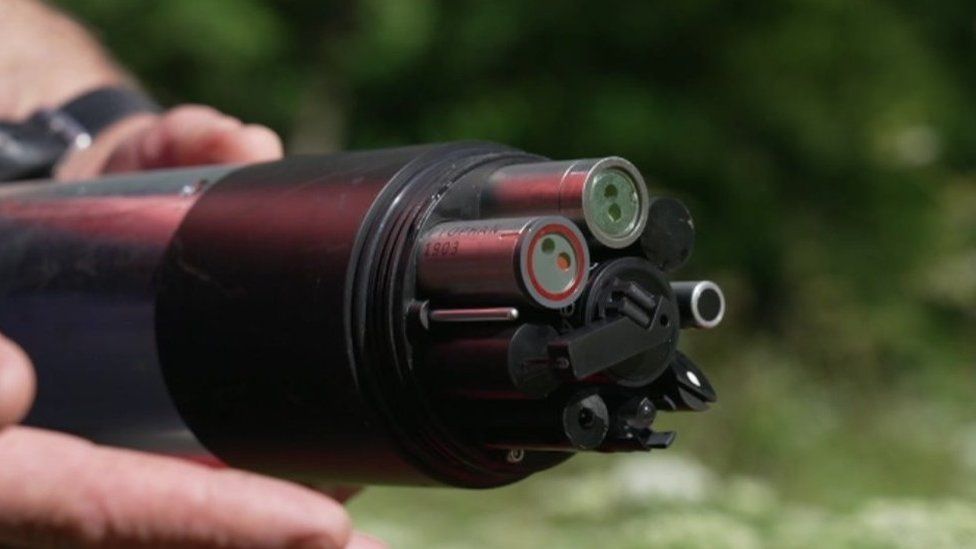 Even dodging some sudden and rather forceful summer showers, the banks of the River Teme are pretty much perfect at this time of year.
There are flowers on the banks and the trees are the fresh green of still new growth. The river itself is pretty much picture perfect.
And yet I probably wouldn't recommend going for a swim in it. It's almost certainly not as idyllic or as clean looking as it first appears.
Indeed the Teme will be seeing some of the almost £80m of investment water company Severn Trent is making to create nine miles of river in the Midlands that will be clean enough to actually swim in.
The problem is tracking and monitoring pollution in rivers isn't as easy as you might think.
For the most part it involves taking water samples which need to be sent off to a lab for analysis. You get results in about five days, but in the end all that really gives you is a spot check of the river's health a week ago.
But, I'm here on the Teme to see an invention that changes all that. It's a pollution detector that doesn't need a lab and that monitors water quality in real time.
It was spun out of research at the University of Birmingham into fluorescence. Think the blue glow of a gin and tonic in a nightclub.
About the size of a slim fire extinguisher, the detector can sit by a riverbank or even be towed along behind a kayak, giving feedback on the water quality as you paddle along the river.
The detector bounces light off the river water and analyses what happens to it.
It gives you levels of stuff like E. coli and other more technical measurements of the health of the river there and then on the screen of your smartphone. No more samples in the post to the lab.
To give you some idea of how effective this technology is, an early prototype was tested out in a tiny river at the back of the lab.
The same day it detected a farmer illegally dumping slurry upstream, something he'd done for years, but which all the standard pollution monitors had missed.
And that brings us back to the money Severn Trent is spending and the huge rise in interest in the water quality of our rivers.
Because we're now realising our rivers may look clean, but in fact they have a big problem with pollution.
Cleaning them up will mean tracking down the sources of the pollution and this device will make that much easier to do.
Related Internet Links
The BBC is not responsible for the content of external sites.