NHS 111: Parents anger over four child deaths
By William McLennan
BBC News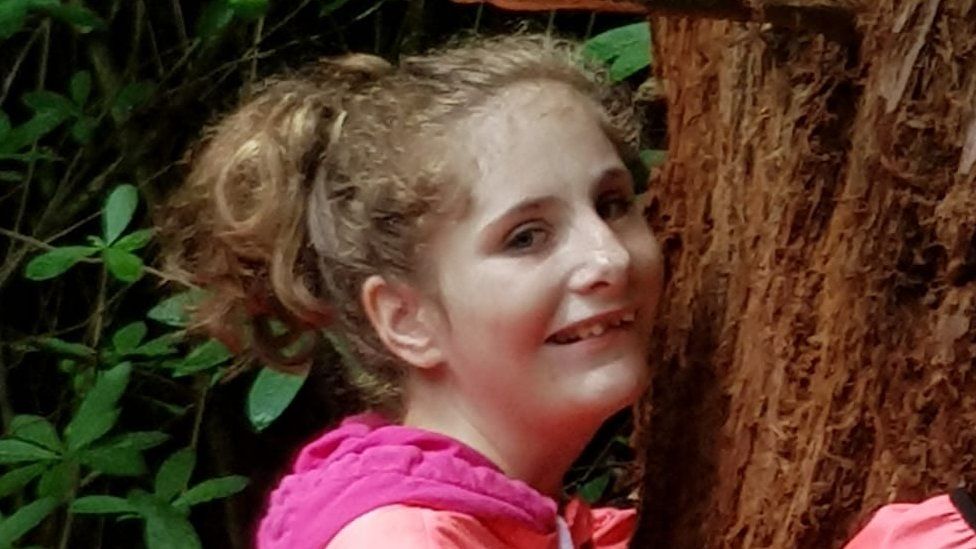 The parents of a girl who died after failings by NHS 111 said they were horrified to learn coroners had already warned about similar shortcomings.
Hannah Royle, 16, died in 2020 after the NHS phone service failed to realise she was seriously ill.
BBC News found concerns had been raised about the call centre triage software in 2019 after three children died.
The NHS said it had learnt lessons from each case, but said it had not established a link between the deaths.
Hannah, who was autistic, had a cardiac arrest as she was driven to East Surrey Hospital by her parents. She had suffered a twisted stomach, but call handlers believed she had gastroenteritis.
A coroner said NHS 111 staff failed to consider her "disabilities and inability to verbalise" when using the triage software.
Known as NHS Pathways, the algorithm relies on answers being given over the phone to a set series of questions. The system guides call handlers, who are not medically qualified, to direct patients to other parts of the NHS for further assessment and treatment.
In 2019, three coroners issued reports "to prevent future deaths" after serious abdominal illness in children were missed by NHS 111.
In all cases, coroners raised concerns about the ability of children to understand call handlers' questions or articulate their symptoms.
Hannah's father Jeff Royle, from Horsham, West Sussex, said: "It's horrific. The sole intention of [the reports] is to prevent deaths, and they have not prevented further deaths."
The three warnings in 2019:
Two-year-old Myla Deviren, from Peterborough, died after a twisted intestine went undetected. After her death, a coroner said the system should be reviewed because children can not "articulate their symptoms in a way that lends itself to prescribed pathway questions and answers".
Six-year-old Sebastian Hibberd, from Devon, died of a blocked bowel. A coroner investigating his death warned that NHS Pathways "did not allow a meaningful assessment of pain in a child". The coroner said "the ability of a child to communicate such pain should be reviewed".
Alexander Davidson, 17, died after complications from a blocked pancreas. A coroner warned that Alex, from Nottinghamshire, had "struggled to comprehend some of the medical terminology" call handlers used. The coroner told the NHS to consider "how young and/or vulnerable patients can be assisted to provide accurate information about their symptoms".
Guy Forster, a solicitor at Irwin Mitchell who represented Myla's parents, said the similarities between the cases were "quite striking" and "goes to show there might be a wider issue here".
"Ultimately, these are people who are really quite vulnerable, whether they are vulnerable adults or children, who aren't able to articulate their symptoms in the same way," he said
Sebastian's father Russell Hibberd, said: "It's infuriating to me that these things keep happening and people are having to go through these situations and it just keeps happening."
An NHS spokesperson said: "Each case has been thoroughly investigated and appropriate action has been taken in line with the coroners' findings."
It said that NHS 111 handles 20 million calls per year, and "the guidelines used by staff are regularly reviewed with oversight from the independent National Clinical Governance Group, chaired by the Royal College of General Practitioners".
It said all four deaths - which had different causes and varying contributing factors - had been reviewed individually, and no link had been established between them.
Roy Lilley, a former NHS trust chairman, said the NHS should compare the four deaths "and if there is anything to learn, we should learn it and put it into practice".
He said NHS 111 is "broadly safe", adding: "It handles 20 million calls a year and gets most of them right. When it doesn't, of course it's a tragedy for the people concerned."
Mr Royle said he was haunted by the failings that led to his daughter's death nearly two year ago.
"It's nothing less than sheer agony," he said. "I haven't got over it; it's like it happened yesterday."
Related Internet Links
The BBC is not responsible for the content of external sites.