Final year medical students 'can't afford to pay rent'
By Eloise Maddocks
BBC News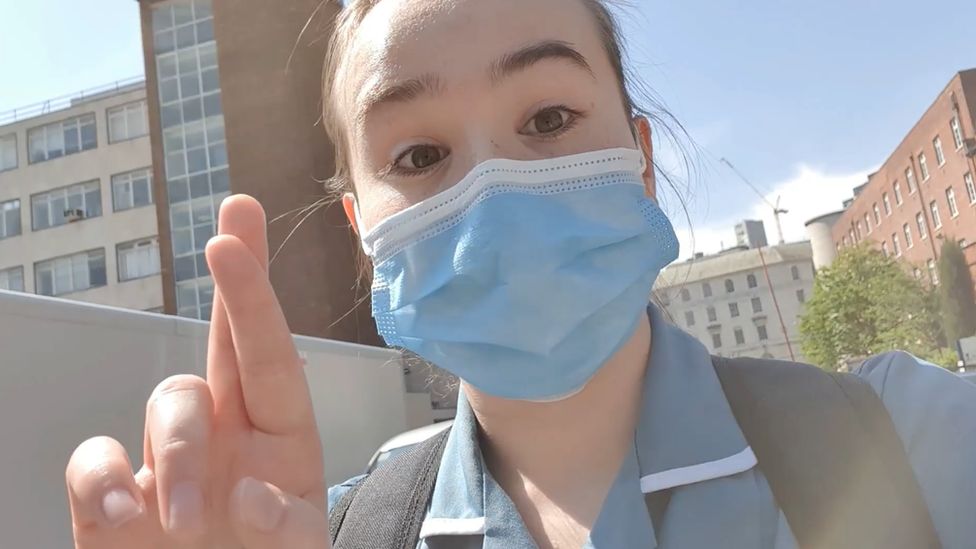 Final year medical students have said they are facing having to quit their training because they don't have enough money to live on.
The students are campaigning for better NHS bursaries.
In their final year, student doctors get a reduced loan and an NHS bursary - which is a maximum of £6,458 to live on annually for someone outside of London.
Students have said this is not enough on which to survive, especially for those from low-income backgrounds.
The campaign for a #LiveableNHSBursary has been backed by the British Medical Association - which described the funding as "a failure from the Government".
Khadija Meghrawi, co-chair of the BMA medical students committee, said: "This is particularly unbearable now when the whole country is suffering from a terrible cost of living crisis."
Penny Sucharitkul, a student doctor at Leeds University, said her annual funding has dropped from more than £10,000 to £5,375.
She said the money does not even cover her rent - which was recently increased by her landlord.
The 22-year-old is from a single-parent family which had to rely on universal credit after her father lost his job as a factory worker during the pandemic.
On top of studying full-time, she works as a martial arts instructor and a clinical research assistant.
She believes that working-class students are treated unfairly.
"There isn't really any time for extra jobs but we make it work because we don't have a choice," she said.
"We're getting up at 6am, spending all day training, then going to work again - and it's incredibly taxing on our mental health.
"We're burning people out before they've even started in the NHS."
Michaela Vernon, from Nantwich, Cheshire, is from a low-income background and is worried that she cannot afford to complete her course.
"There hasn't been an increase in funding during the cost-of-living crisis and this makes things very expensive," she said.
"I've worked so hard. I'm good at my course and it's not fair that I might not be able to make it to work as a doctor.
"We need to make sure medical students can reach graduation without suffering crippling debt or burn-out."
The Department of Health and Social Care said that it recognised funding was higher in the first years of a medical course - and urged students to apply for hardship grants where available.
"We are committed to supporting medical students in England across all years of study and are keeping funding arrangements for all healthcare students under review," it said.
Related Internet Links
The BBC is not responsible for the content of external sites.