Only Fools and Horses: Archive found on 40th anniversary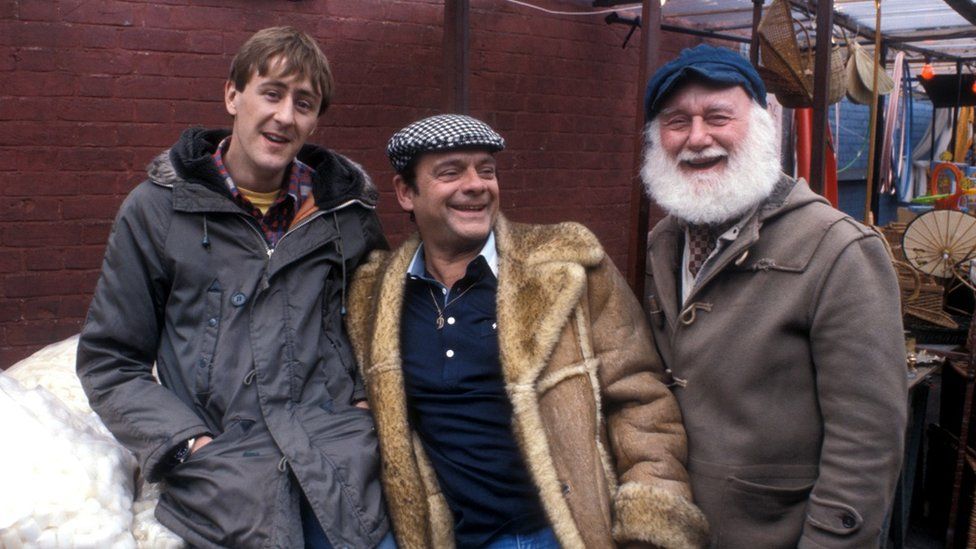 Hundreds of previously unseen photos taken during the filming of Only Fools and Horses have been unearthed in the BBC Archive.
On the 40th anniversary of the classic sitcom, archivists have digitised long-forgotten negatives of the show's stars and crew filming on location.
They include scenes at Butser Hill, near Petersfield in Hampshire, Studland Beach in Dorset and Margate in Kent.
Archivists said the photos were an "incredibly rare" find.
The restored negatives from the original series show David Jason and Nicholas Lyndhurst, who play brothers Derek and Rodney Trotter, with the production team and fellow actors.
Luke O'Shea, BBC collections manager, said: "When we first pulled them out and found them, they were in a real mess. They needed a lot of work."
Only Fools and Horses, created by John Sullivan, first aired on 8 September 1981.
Sixty-four episodes - filmed primarily in Bristol and West London - were broadcast over seven series until December 2003.
Several mini-series and Christmas specials have also been created, along with spin-offs, a musical and even a board game.
BBC archivist, Toni Thompson, said: "When I started to look through, I thought 'wow, this is on location'.
"You rarely get pictures of them out on location because they don't always send photographers with them - and the photos are just fabulous."
Filmed at Butser Hill in 1986, the episode from series five, entitled Tea For Three, sees the Trotter brothers competing for the affections of a young woman.
Their efforts lead them to play tricks on each other, and Rodney persuades the woman to take Del Boy hang-gliding for his birthday.
Despite being terrified, Del is forced to go through with the flight and is last seen gliding towards the sea.
Mr O'Shea said: "There are some amazing pictures taken on the hills where you can see the production staff and that hang-glider in the background, just waiting to take off."
Ms Thompson said: "We were trying to find something different, something that hadn't been seen before.
"They are all just having a great time."
In the 1982 episode, It Never Rains, the Trotter brothers go on a rare holiday to Benidorm with Grandad - played by Lennard Pearce - but instead of travelling to Spain, the beach scenes were filmed at Studland Beach, near Bournemouth.
Other locations include Margate, Kent, which was the setting for the 1989 Christmas special - Jolly Boys' Outing, and Waterloo Station in London, where Derek met Raquel for the first time in the 1988 festive episode - Dates.
Mr O'Shea said: "We didn't know we were going to find so many amazing images."
Ms Thompson added: "It has always held a special place in the public's heart and it felt right that we should be celebrating that and sharing what we have in the archive."