Water pollution causing 'death by a thousand cuts' for rivers
By Rob England
BBC News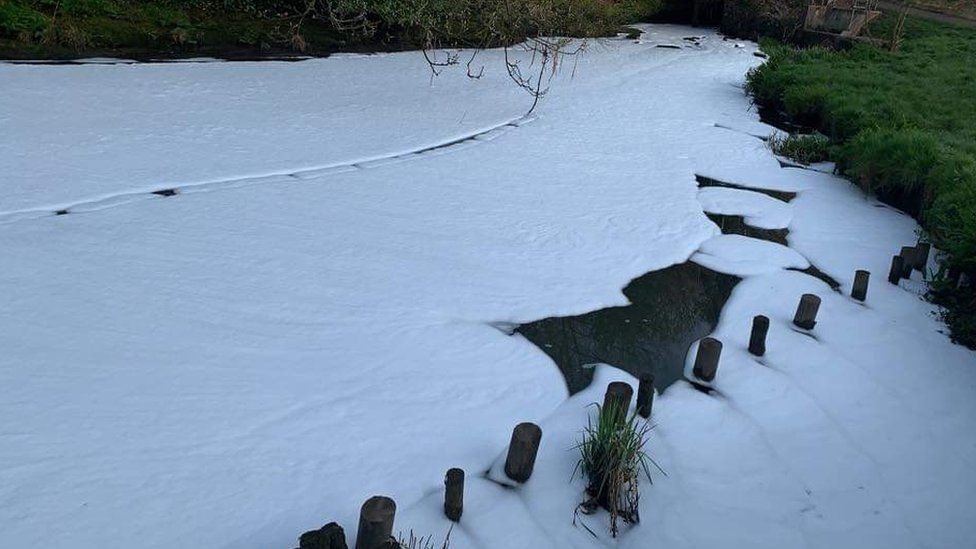 Harmful water pollution that can affect human health and wildlife shows "no signs" of slowing, campaigners say.
Environment Agency (EA) figures suggest the number of incidents rose by almost a quarter in the year to March 2021 compared with the previous year.
River Action UK said reductions in enforcement meant polluters continued to put "filth" into waterways.
An EA spokesman said it took strong action against those who break environmental regulations.
However, agency resources to monitor the agriculture sector have been in decline for a number of years.
BBC analysis of EA data showed that 325 category one and two serious water pollution incidents were recorded in the year to March 2021, up 23% on the year to March 2020.
This was still lower than a peak of 377 in 2013-14.
Reported pollution is given a category from one to four based on how damaging it is to the environment - one being the most serious.
A category one incident has a "major effect" on either water quality, human health, conservation or businesses, while category two has a "significant effect".
Mark Lloyd, chief executive of The Rivers Trust, said these serious incidents "usually involved wildlife being killed, such as fish and invertebrates", which can affect the food chains of other animals.
He said it was also "hazardous for humans, because of the pathogens which can be found in polluted water".
In the latest government figures from 2019, serious pollution was attributed mainly to illegal waste activities such as fly-tipping, waste treatment, sewage from water companies and farming activities.
Mr Lloyd said more recent figures showed there was "no sign" of water pollution decreasing across England, with most incidents being due to water companies and farming activities.
"These are just the serious incidents - there are many more which are less significant," he added, warning that pollution was causing "death by a thousand cuts for our rivers".
Charles Watson, from the campaign group River Action UK, said although efforts were being made to prosecute water companies for serious pollution, similar action had not been taken against agricultural polluters because of what he termed "progressive de-funding" of the Environment Agency.
"The direct consequence of this… [is] polluters can put as much filth into our rivers as they like, secure in the knowledge they are never going to be held to account," he said.
Both groups have called for funding to be restored to the agency to ensure more polluters are found and prosecuted.
Sewage and slurry were the two most commonly identified pollutants over the past year, according to the BBC's analysis.
In its latest report monitoring the performance of water companies, the agency said serious water pollution incidents caused "were at their lowest ever recorded level".
However, it added the performance of some companies still gave them "serious cause for concern".
Environment Agency Chair, Emma Howard Boyd, said some "were still failing in their duty to the environment and there remains a tendency to reach for excuses rather than grasp the nettle."
Slurry, a substance created from manure and used as fertiliser by the agriculture industry, was the second most commonly identified pollutant.
A National Farmer's Union (NFU) spokesman said "significant strides" had been made to reduce pollution from the sector.
However, he warned investment in key technology to help reduce pollution, such as slurry storage, was "inaccessible to many".
The Environment Agency said in the past six years it had brought 45 prosecutions against water companies, securing fines of £131m.
The majority of this - £90m - was issued to Southern Water last week for thousands of illegal discharges of sewage which polluted rivers and coastal waters in Kent, Hampshire and Sussex.
By comparison, 10 prosecutions were carried out in the agriculture sector in 2019-20, with fines totalling £80,000 by the end of 2020.
The agency said regulating agricultural pollution involved overseeing thousands of businesses and officials had to focus on the riskiest and worst offenders as a priority.
Related Internet Links
The BBC is not responsible for the content of external sites.