Wind power: Newcastle and Humber investment to create 1,000 jobs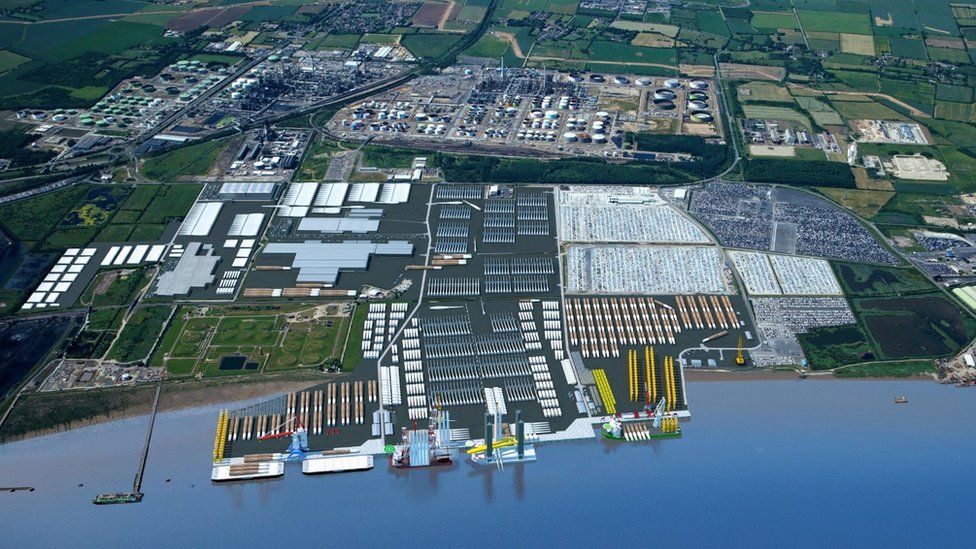 More than 1,000 jobs are to be created following investment in two sites manufacturing offshore wind farm equipment, the government has said.
A South Korean company will create 750 new jobs in North Lincolnshire by building a £117m factory to make supports for turbines.
In Newcastle, a site in Wallsend will see a £70m investment safeguarding 325 jobs and creating some more.
The funding has come from government grants and private sector investment.
Rob Waltham, Conservative leader of North Lincolnshire Council, said the new factory showed the government's confidence in the region.
"This is a globally significant investment which will be instrumental in creating well-paid, highly skilled, sustainable jobs," he said.
The elected mayor of North Tyneside, Norma Redfearn, said the investment in the Smulders Projects site on the banks of the Tyne would "breathe new life into the river".
"I am delighted to hear about this significant investment in the borough, which will create and protect jobs and have benefits for the wider region," she said.
The Lincolnshire site will be built at the Able Marine Energy Park in North Killingholme on the Humber estuary.
Company SeAH Wind will build foundations to hold up the monopiles that support the turbine blades. The first structures are expected to roll off the production line in 2023.
Neil Etherington, from Able UK, said that other manufacturers were also planning to build new factories at the site.
"In terms of the construction of big factories and the new quays there'll be 2,000, 3,000 temporary jobs," he said.
"But the most important ones to me are the long-term 2,000 or so direct jobs on site."
Funding for both sites comes from a £160m government investment in offshore wind announced last year and £180m in private funding.
Business and Energy Secretary Kwasi Kwarteng said the investment would "benefit the whole of Britain".
"Wind is one of the UK's greatest natural assets and we're a world leader in offshore wind energy," he said.
"With the largest installed capacity of offshore wind in the world, we are determined to grow and nurture a strong, world-class manufacturing base so British businesses and our workforce can fully seize the economic benefits being a windy island nation brings."