Worcestershire detectorist finds stolen treasures on first hunt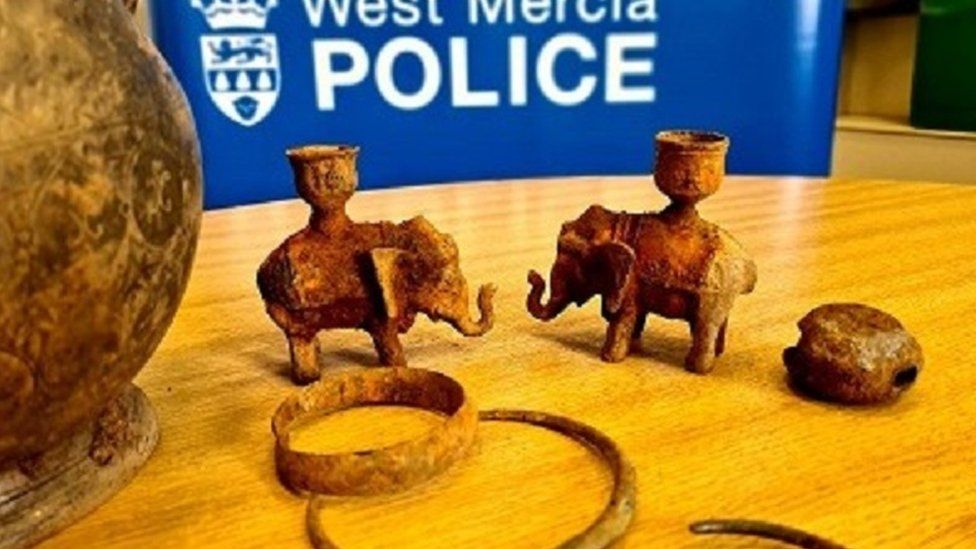 A metal detectorist who dug up a hoard of stolen Roman and Viking treasures on his first hunt said he was delighted they were back with their owner.
Novice Charles Cartwright, 43, found nearly 300 historic items buried in a field in Worcestershire.
At first he thought he had struck lucky with an incredible find - but an Aldi carrier bag they were in raised suspicions.
He later discovered they had been stolen from Shropshire in 2017.
The rightful owner, an avid collector who wanted to remain anonymous, had resigned himself to never seeing the treasures again.
Mr Cartwright took his metal detector out for the first time on 7 May and had been out in a field in Polfields Coppice, near Malvern, for two hours when his machine "went crazy".
"I put my spade in about a quarter of a foot and I heard it tinkle on something metal," he said.
"I moved it to [one] side and I saw a large silver jug, so I uncovered that, lifted it it out and it weighed a hell of a lot because it was full of water.
"Inside the jug was an Aldi plastic bag and inside that was the other 271 items."
He said the find had been "exhilarating" but seeing the plastic bag had made him realise "this isn't quite right" and he contacted the police.
The items, which West Mercia Police said are worth more than £5,000, also included Egyptian relics, medieval and Bronze Age pieces.
"You always hear stories like this, but you never get to be a part of one. So it is exciting to be part of such a happy conclusion," he added.
The owner, a lifelong antiques and antiquities collector, said the items had been taken when his home in Ludlow was broken into four years ago.
"As well as many item from my collection, they took out the hot water cylinder and left the water running - this didn't seem to make much sense initially - but several days of flooding left the house uninhabitable and they were able to return twice a fortnight later, break in again and search for further items," he said.
The found pieces were returned to him as some still had auction tickets, he said, which connected him to them.
He said it was "wonderful" to see the items again, which included some of his "favourite" pieces, and he was "extremely grateful" to Mr Cartwright.
The owner said he had attempted to offer Mr Cartwright a reward, which he declined, but said he hoped to meet him in the future and "buy him a pint or two".
Det Con Tom Court said the investigation into the burglary was continuing.
Related Internet Links
The BBC is not responsible for the content of external sites.