Covid: £13.5bn needed to help pupils catch up, report says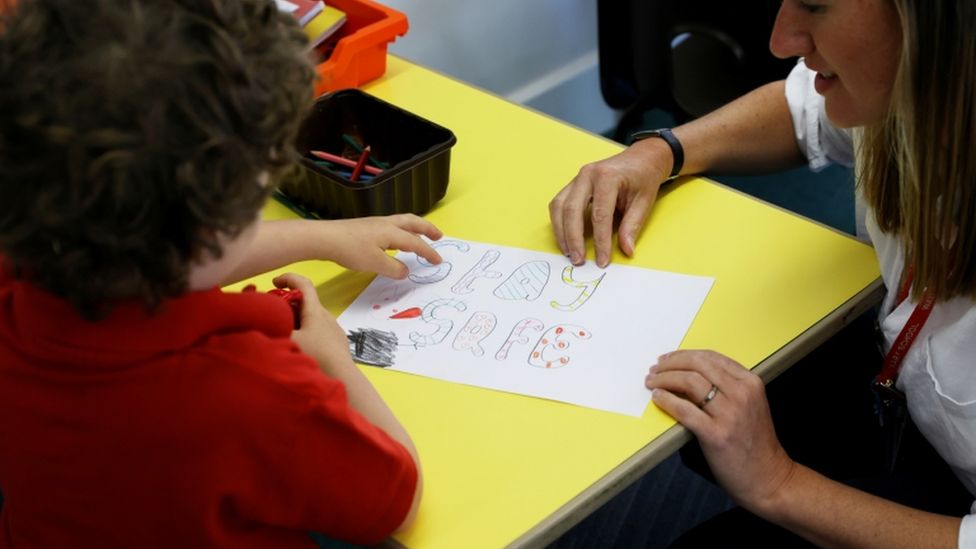 Some £13.5bn is needed to reverse the damage to pupils' education caused by the pandemic, a think tank has said.
The Education Policy Institute says the money is needed as pupils have lost up to two months of learning in reading, and up to three months in maths.
It is calling on the government to extend the school day and increase funding for poor pupils, as part of a series of measures to help recovery.
The government has already given £1.7bn for catch-up support in England.
This week, the Prime Minister promised to address the learning pupils have missed during the pandemic, and ensure every child is able to fulfil their potential.
The report points out this will require significant investment.
It says the government will need to put in place an ambitious programme of support to run over a number of years, to help pupils who have lost months of education since schools were first closed in March 2020.
The report calculates the total cost to help pupils catch up is £13.5bn over three years, which compares with the annual schools budget for England of £48bn.
In total, it is estimated the lost learning could result in total lost lifetime earnings of between £62bn and £420bn, across the eight million school children in England.
The researchers argue that extra support should be kept in place for a number of years to address the inequalities in education that existed before the pandemic, and to improve the results of pupils.
The Education Policy Institute (EPI) research shows that even before Covid, poorer pupils were already 18 months of learning behind their more affluent classmates by the time they took their GCSEs - with that attainment gap already starting to widen.
The impact of school closures meant that by autumn 2020, pupils had lost up to two months in reading overall, and up to three months in maths in primary schools.
But following school closures before Christmas and in early 2021, losses are likely to have increased further, the report suggests.
To make up for the loss of so much time in school, the report recommends a number of measures that should be part of the recovery plans the government is working on.
These include longer school days, so that children can take part in a range of education, sports and social activities.
Other suggestions include summer activities to help well-being, more one-to-one and small group tuition, extra funding for pupils from poorer families and mental health support.
The recovery should also include support for younger children in the early years, where high-quality education and care can play a decisive role.
And much more funding is needed for 16 to 19-year-olds in further education colleges and those studying apprenticeships, the researchers recommend.
Natalie Perera, chief executive of the EPI, says if the government is committed to dealing with the harmful and long-term consequences of Covid, then it needs to provide a serious funding boost.
"We are calling on the government to implement a series of effective, evidence-based policies from this September to support children and young people - not only with their learning, but with their well-being and mental health too."
Kevin Courtney, joint general secretary of the National Education Union, said the government's response has been utterly insufficient.
"The government must prioritise education in the forthcoming Spending Review so that schools can increase the number of properly qualified teachers on staff, and bring down our historically high class-sizes. The solution to Covid cannot be yet more austerity."
A government spokesman highlighted its initial £1.7bn investment in a catch-up plan for pupils, adding: "We are working with parents, teachers and schools to develop a long-term plan to make sure all pupils have the chance to recover from the impact of the pandemic as quickly and comprehensively as possible - and we have appointed Sir Kevan Collins as education recovery commissioner to advise on this work."