Covid: How have pro-wrestlers grappled with lockdown?
By Aleisha Scott
BBC News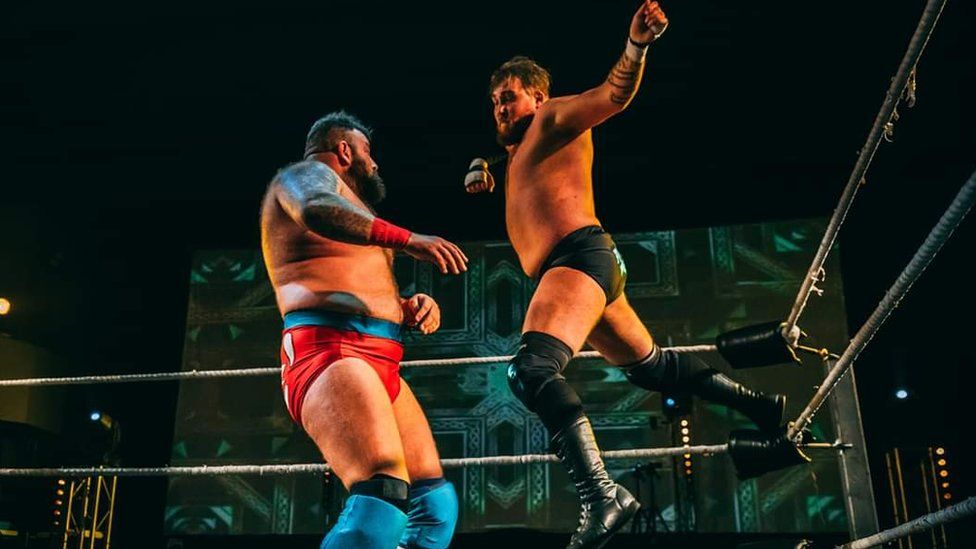 Piledrivers, powerslams and pinfalls have been out of the ring as Covid has slammed British wrestling to the floor.
With no revenue from live events, performers and promoters have been left without an income.
Ahead of its comeback in July, BBC News has spoken to three wrestlers to find out what they have been doing away from elbow drops and flying clotheslines.
At 6ft 2in (1.87m) tall, dressed in a Hawaiian shirt, 80s denim jacket and jelly shoes, Will Burden cuts a distinctive figure.
When he steps in the ring, he becomes Flynn Burden - a professional wrestler whose signature finisher move is called "End of Line", a gut-wrenching power bomb throw.
The 29-year-old has been wrestling for five years, basing his character on Jeffrey "The Dude" Lebowski from the film the Big Lebowski.
He can now add Reverend to his wrestling name - in lockdown he became an ordained Dudeist minister with the Church of the Latter-day Dude, an online "religion" that celebrates The Dude.
"I can officiate at weddings, with a registrar present, so we have talked about marrying people in the ring," he said.
Mr Burden, from the Forest of Dean, Gloucestershire, was a full-time wrestler before the pandemic so used his downtime from the ring to start a university course in graphic design last September.
"There have been silver linings. I'm doing something else I enjoy, so it gave me an opportunity to build an alternative to wrestling," he said.
But it's been tough. As a freelance wrestler, he was unable to claim government support for his loss of earnings and so has been living on his student loan.
And the closure of pro-wrestling gyms with custom-made safe rings has meant wrestlers have been unable to train during lockdown.
"Not being able to wrestle has been difficult, it's just been waiting and I've put on a few pounds," he added.
"I'd spent 2019 out because I'd torn the patella tendon in my knee in a match so I was just getting back in the ring when the pandemic happened.
"Now the gyms are open it's going to be a lot of work to get back to where I need to be, but I'm chomping at the bit to get in the ring."
When shows return, The Reverend Flynn Burden will join partner Buzzsaw Bronson as a tag team called Boyz in the Wood.
"There'll be a bit of ring rust that we'll have to work off when we can train together again," he said.
"I give it my all, I'm trained to fight and I want to win but I'm going to have a good time doing it.
"I hope that people have not lost the love for it, I know I haven't."
Sam "Buzzsaw Bronson" Beech, 31, has been wrestling for 13 years and was heading into 2020 as South West Wrestling's heavyweight champion, and the main event at shows every week - something that can earn between £300 to £600 a night.
"Buzzsaw is aggressive, dangerous, a bit of a bad-boy," he said.
"It really felt like I was getting some momentum, then it all ended.
"You plan a character for so long it becomes part of you and when it ended, something was missing."
As a freelance performer, Mr Beech, also from the Forest of Dean, lost his income when shows shut down.
During lockdown, he became a personal trainer and is hoping to become a strength and conditioning coach.
"I've missed wrestling but there are parts of my life that have benefited," he said.
Describing the buzz of being in front of cheering and jeering fans, Mr Beech added: "There's nothing like being in front of a live audience, it's incredible - the noise and feeling that energy.
"That's why it's so addictive, I want them to jump up and down, scream, cry with joy or boo.
"Everything we do is impressive, there'll be so much excitement and moves I can't wait to try."
Pete Bainbridge, from Cheltenham, owns and runs South West Wrestling.
At 16, he was the youngest wrestler in British history to be world champion and was a regular on ITV's World of Sport Saturday sports show.
Now aged 49, he still gets in the ring, acting the role of evil CEO, who elicits boos and jeers from the fans.
He said: "I had a lot of wrestling success as a kid but I didn't know what to do with it so I quit at 19, had a 30-year break and came back as a promoter, something I'd always wanted to do."
By day he has a property maintenance company, but at weekends he had been travelling the country putting on wrestling shows in town halls, ballrooms, festivals and community centres.
Before the pandemic, the company was selling out shows every week, entertaining packed crowds of fans eager to see their heroes in the flesh, and had their biggest booking in the diary at Lakefest in Hereford.
Each show could bring in upwards of £10,000 in ticket sales alone and would see six matches of 12 male and female wrestlers manoeuvring their way around the ring.
"It felt like we were really making it," he said.
Its last show was on March 8 last year in Stroud, Gloucestershire.
"We said our goodbyes that night and that was the last we've seen of each other," Mr Bainbridge said.
"We lost it all. Our storylines have been forgotten - we've got to start from scratch."
His new training school for wrestlers had to be closed and he said he had lost thousands, with one of the main costs being storage for the ring, scaffolding, props and the PA system.
He too was unable to claim business support because the company had not been operating for three years and so could not provide the tax returns that were required.
"I wasn't able to get much, just little grants. We tried to get shows back late last year but had to cancel," he said.
South West Wrestling is now preparing for a busy roster from July through to December, including re-booking summer festivals.
Mr Bainbridge spent his time away from the ringside perfecting his business to come back "bigger and better".
The new shows will have socially-distanced seating with safeguarding Covid officers, track and trace, temperature checks and wrestlers will be tested before matches.
"We've gone back to the drawing board and polished everything - it's a whole new business," he added.
"Sadly there will be lots of wrestlers who won't come back to wrestling - I know an ex-world champion who has gone back to his day job, people have got out of shape and they lose heart."