Elections 2021: Why a lack of buses is a key issue for voters
By Stephanie Miskin
BBC News, West Midlands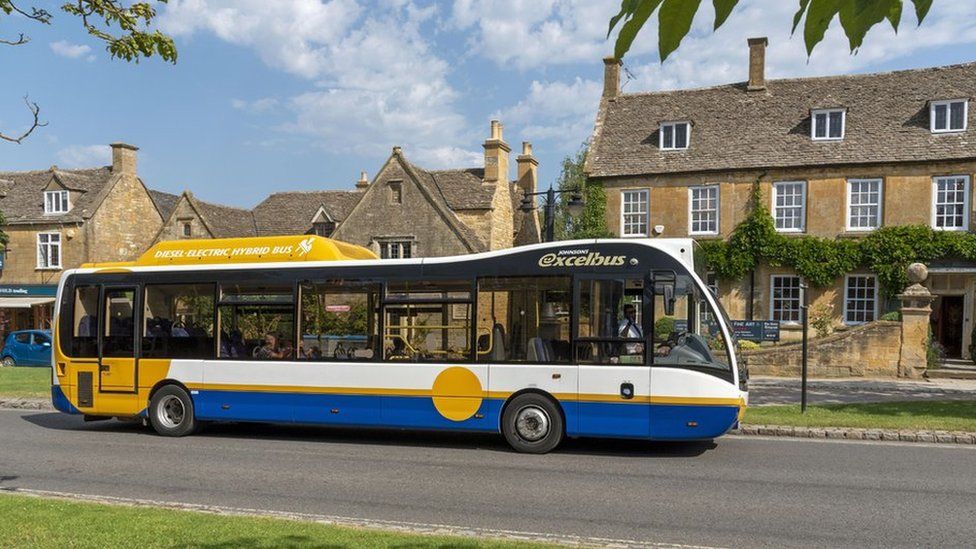 Public transport is a lifeline for people who don't have any other means of getting to work or seeing friends and family, making how much councils spend on supporting bus routes a key issue in Thursday's elections.
In the West Midlands, bus journeys have dropped 25% across the region in the past decade. These young voters - and bus users - tell us what they want councils to prioritise.
'I moved house to be better connected'
One moment Ruby Ferrier Jones was back-packing around Australia, the next she was back at her parents' home in rural Shropshire after the coronavirus pandemic cut her dream trip short.
The move back home was a blow, not least because the county's transport connections made trying to find work very difficult.
"I tried to learn to drive when I came back in August because I thought that would help me get a job, but that all stopped when the second lockdown happened," the 23-year-old said.
"Bishop's Castle is very rural, there's very limited public transport and where my parents live is outside of the actual little town. So again it's another layer of being disconnected.
"Most of the young people I know who are living back at home or living in very rural areas feel the same. It's mostly loneliness and missing friends and not feeling like you can move forward at all."
After several months of working in a shop part-time while unsuccessfully applying for full-time employment, a friend stepped in to offer a temporary solution, a spare room at her home in Shrewsbury 20 miles away.
"Almost every job that came up for Shropshire, it was just a 'no' or 'I can't get there'.
"Now being in a more urban area, it really has opened so much more, just being able to walk into the centre of Shrewsbury or get a bus or a train.
"When you've lived and grown up in a rural community your whole life, you're just kind of used to it.... it just blows your mind when you see all the options people have [in urban areas]."
The move to Shrewsbury has paid off, with a full-time job at a hospital.
For those growing up in rural areas, Ruby said extra and regular services during the day, as well as early and later buses, would create "more opportunities for employment and experience for younger people" who rely solely on public transport.
Late buses 'just an unfortunate reality'
Jack Spawton-Rice relies on buses throughout the day every day as part of his job as an adolescent support worker in Coventry.
The 27-year-old visits families across the city and sometimes further afield, relying on regular public transport to get him there.
"I try and plan it so if I'm seeing families, I think about where they are in the city and try and plan my day, minimizing the travel time where I can."
He uses the Citymapper app to simplify his journeys, to ease the stress of timings and getting lost. However, it doesn't account for buses being late or not showing up.
"Buses being late happens quite a lot. And for families it can be an experience that sometimes can [cause] anxiety. So I'll ring them apologise and say, 'I'm just running about 10 minutes late with the bus' or I've missed one bus 'sorry I'm going to be 25 minutes late because of my bus'.
"I think it's just an unfortunate reality."
In his previous job he often cycled to work for 45 minutes, as buses didn't cater for the early hours it demanded.
Now living in rural Burton Green in Warwickshire, Jack said if he missed his hourly bus or if it was late, he had to walk for more for 30 minutes to get to Tile Hill, his nearest town.
"Burton Green is really out on a limb. I definitely question our choices now we are living here," he joked.
Jack said he'd like to see transport leaders consider improving connections on a more long-term basis between rural and city areas, especially ones which don't have many local amenities.
"I'd like to see more regular buses into Coventry from Burton Green, [that] would be really great. But also a service between Kenilworth and Burton Green... I don't understand why that does not exist.
"Where we are, I suppose it is difficult to argue for more buses because of the cost and use. They will say that it's not a hugely popular route, you know, and it's my fault for choosing to live in the middle of nowhere - so suffer the consequences."
He added: "At the minute there's lots of young families, but in a couple of years' time, and [the children] need to go to school and get around, buses are going to be required."
'My bus is next to non-existent'
Looking for a full-time job in a pandemic is hard enough, never mind wondering how you'll even get there.
That's the reality facing 24-year Kai Evans as he looks for warehouse work which will be mainly out-of-hours and out of town, where public transport is unlikely to run.
He lives in Staffordshire where passenger bus journeys decreased by more than a third in the decade between 2009/2010 and 2019/2020.
Kai was made redundant from his kitchen job in September 2020. While working there he would often have to wait behind at work for more than an hour for the next bus home, sometimes paying for a taxi or asking colleagues for a lift.
"My bus is next to non-existent," he said. "It used to be every 15 minutes and then it changed to every half-an-hour - now we're lucky if it is every hour.
"Sunday and late-night services have stopped. I often had to improvise about how I would get home and spend extra.
"We usually closed the kitchen at 9pm and I would... stay behind just so I could get a bus without having to walk around dangerous areas because of an increase in crime in my area," said Kai, of Stoke-on-Trent.
He lives at home with his mum, who has MS, and his sister, who is a full-time carer and is "frustratingly" dependent on benefits while looking for work.
What Kai would often earn in a week working in full-time catering he is now living off per month. He says "the struggle is real" trying to stay on top of bills.
"We've got to try to scrape by because we didn't make that much money to begin with, and then being made redundant, just made us have even less money. So in fact, I'm learning to save and be more responsible with our income.
"I would like to see regular buses again, every 15 minutes like they used to be, and services at weekends and evenings. Whenever I have raised my complaints nothing ever happens. And when you ask questions about it, they kind of just shrug it off and basically it just falls on deaf ears."
ENGLAND'S ELECTIONS: THE BASICS
What's happening? On 6 May, people across England will vote for new councillors, mayors and police and crime commissioners. Register to vote here.
Why does it matter? When parties win control of a council, they decide policies for your area which could affect services ranging from social care to rubbish collection. Find out more about what councils do.
Related Internet Links
The BBC is not responsible for the content of external sites.