Tomahawk Steakhouse staff told 'loan firm 10% or they could face sack'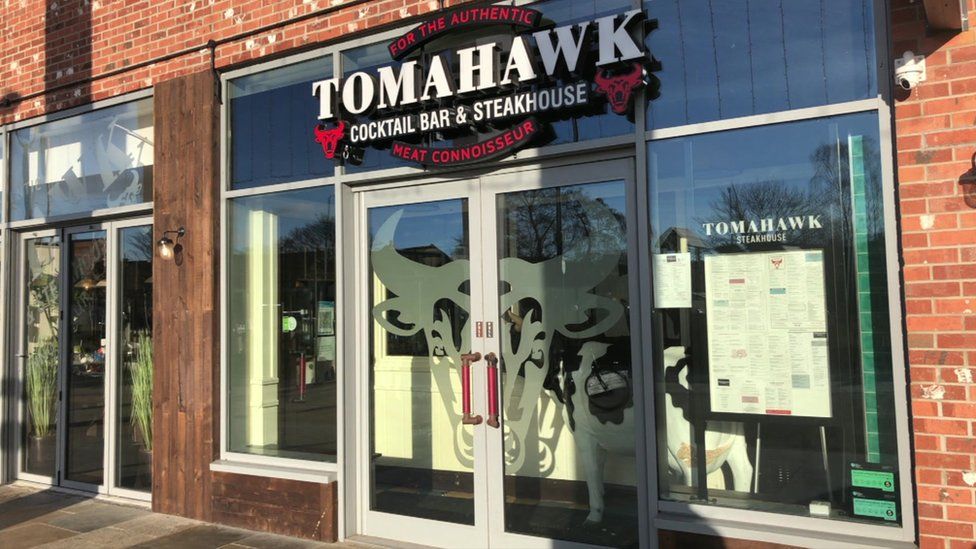 A restaurant chain has asked furloughed employees to loan the firm part of their wages or possibly face the sack, a union claims.
Tomahawk Steakhouse wants staff to sign an agreement to lend 10% of their pay to cover pension and national insurance contributions, the GMB Union says.
Staff who refuse have been told their "suitability for the role will have to be reviewed", it is claimed.
Tomahawk has denied the claim staff were told they might lose their job.
In a letter to staff seen by the BBC, Tomahawk, which has restaurants in Yorkshire and the north east of England and recently opened a branch in London, says it has a "short-term cash flow issue and it requires your help and support".
It says that as it must make the National Insurance and pension payments itself the "only viable alternative is to ask for your agreement to a loan arrangement".
It adds that the interest-free loan will be repaid "once the lockdown is eased sufficiently for the company to trade".
GMB regional secretary Neil Derrick said: "It's never been easier or cheaper for businesses to borrow money than it is at the moment during the pandemic, but this business, Tomahawk, want it for free and they have solved their cash flow problem by giving a cash flow problem to their staff.
"It stinks and we think it is an abuse of the furlough scheme, we think it is an abuse of the job retention scheme and we've asked HMRC to investigate.
"Staff have been told that if they do not agree to the loan agreement their suitability for the role will have to be reviewed, and we all know what that means, that's a threat of dismissal."
Tomahawk has branches in places including York, Middlesbrough, Beverley, Newcastle, Durham and Hoxton, in east London.
One member of staff, who did not want to be identified, said employees had been told about the proposal via video call.
"I logged on to the meeting and they explained that we would have to sign a new contract," they said.
"They said if you don't sign it we will have to see if this job's right for you.
"It made me very angry. Everybody is already worried about money, but then to be taking more off us for the company when the company has just opened a new restaurant in London, surely they must have money behind them rather than just relying on staff to give them a loan."
Labour MP for York Central Rachael Maskell has described the company's behaviour as "disgraceful".
She said: "If it isn't illegal it certainly is immoral and it is certainly punitive to the staff that they employ."
In a response to a written question tabled by Ms Maskell, Treasury Minister Jesse Norman said employers are required to pay staff "all the Coronavirus Job Retention Scheme (CJRS) grant they receive from HMRC to cover 80% of wages" and "cannot enter into any transaction with the worker which reduces the wages below the amount claimed".
A spokesperson for Tomahawk said: "At no point has Tomahawk Steakhouse suggested that members of staff would be sacked if they did not sign a loan agreement."
As with the rest of this hospitality industry, they said they had faced a "challenging year" but that the company's priority was to "protect our people and our business".
They said since putting the proposal forward "every single employee chose to sign up to this agreement."
A spokesman for HMRC said it would "support any taxpayer in financial distress as a result of Covid-19 and we would urge any employer that may struggle to pay its outstanding tax liabilities to contact us as soon as possible."
He encouraged anyone concerned their employer "might be abusing the scheme" to contact HMRC.
Related Internet Links
The BBC is not responsible for the content of external sites.