Covid: Make children priority after pandemic, Anne Longfield says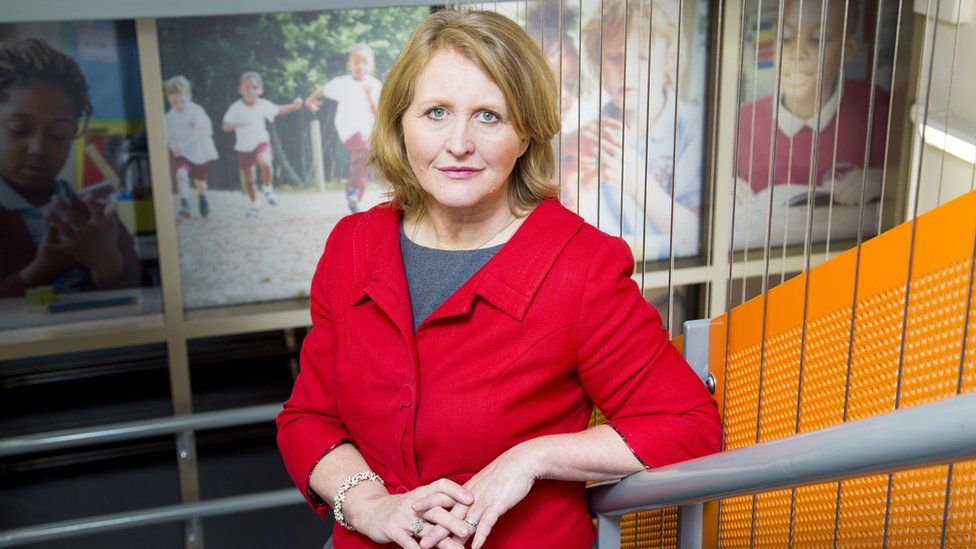 Vulnerable children must be at the heart of government plans to "build back better" after the pandemic, England's children's commissioner says.
Anne Longfield called on Boris Johnson to put them at the "centre stage" of plans to "level up" the nation.
In a final speech after six years in the role, she said it was a "terrible thing" that "most of their lives would have got worse" during the pandemic.
Ministers said protecting vulnerable children was central to its response.
A spokesperson added: "That's why we have enabled the most vulnerable children to continue attending school in person, while providing laptops, devices and data packages to those learning at home and ensuring the most disadvantaged children are fed and warm."
It comes after warnings that children may be "losing all hope for their future" and as surveys suggest young people's mental health is worsening, partly due to the fallout from Covid-19.
Ms Longfield said the prime minister's commitment to putting schools at the heart of reopening of society when lockdown eases was "really welcome".
"There have been points during the year where I was dismayed when schools stayed shut and shops and pubs opened but the prime minister's come behind what we were pushing for which was for the schools to be the last last to close and the first to open," she told BBC Radio 4's Today programme.
She estimated around £10bn will be needed for children's mental health support and help for pupils in school to catch-up.
Ms Longfield said she believed Boris Johnson wants to "build back better" for children but did not think he has the "structures in government around him" to be able to do that.
Tory MP Robert Halfon, the chairman of the Education Select Committee, said the pandemic had "laid bare the damning truth about our educational divide".
In a response to Ms Longfield's speech, Mr Halfon said on Twitter that children were facing a "torrid barrage of lost learning and a new frontier of vulnerabilities".
He urged ministers to focus on the "complex challenges that exist in some children's lives", adding that the school closures could reverse the progress made since 2011.
Ms Longfield said her departing address aimed to set out a "challenge to government and all political parties".
An entire generation risks being defined by the coronavirus crisis and some children may start school so far behind their peers "they'll never catch up", she said.
But she said while the pandemic meant the country was facing the "biggest challenge to our society in 70 years, it is also an opportunity to reflect and rebuild".
She highlighted US President Joe Biden's new package of tax credits and benefits for families with children as an example of the type of action the government could take.
Mr Johnson's promise to "level up" the country will be "just a slogan" unless children are at the heart of the effort, she added.
Ms Longfield said ministers had focused too much on school improvements "without recognising that many of the outcomes for the children attending the schools are overall getting worse".
Calling for a new "Covid Covenant" of education and well-being support in every community, she said school holidays should be used to catch children up with lost lessons.
The children's commissioner said is a "national scandal" the fact almost a fifth of children in England leave school or college without basic qualifications.
A government spokesman said its long-term catch-up plans would combine with an investment of more than £1bn to "ensure we make up for lost time in education over the course of this Parliament".
He added: "Anne Longfield has been a tireless advocate for children, and we're grateful for her dedication and her challenge on areas where we can continue raising the bar for the most vulnerable."
Dame Rachel de Souza, a former chief executive of a multi-academy trust, will take over as the new children's commissioner for England in March.