Covid-19: Critical care wards full in hospitals across England
By Rob England
BBC News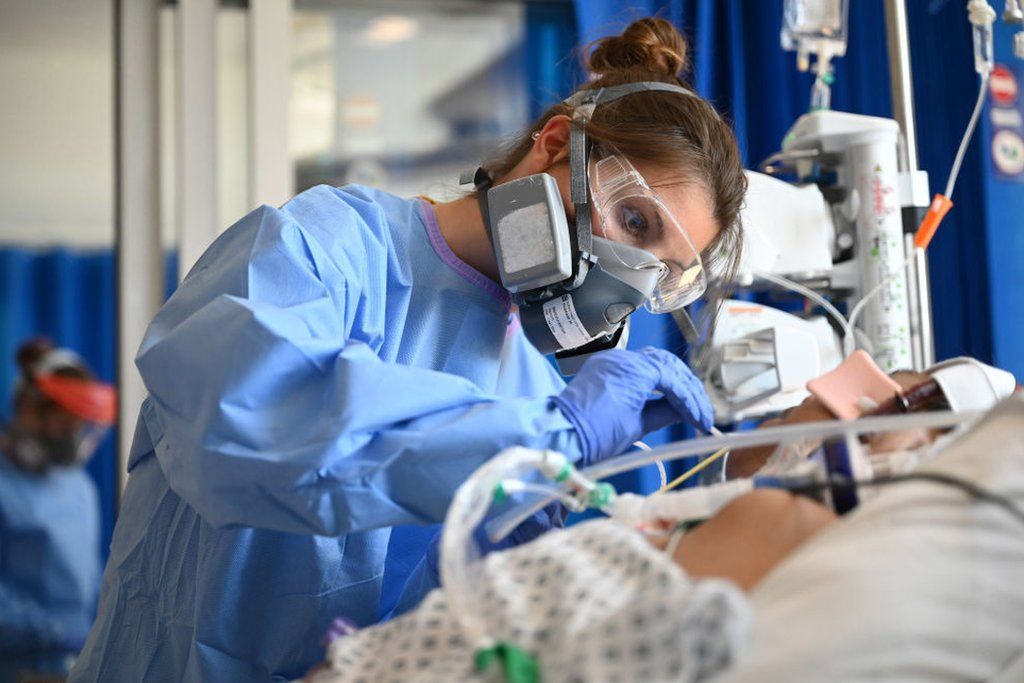 Ten hospital trusts across England consistently reported having no spare adult critical care beds in the most recent figures.
It comes as hospital waiting times, coronavirus admissions and patients requiring intensive care are rising.
England's 140 acute trusts had 5,503 adult critical care beds on 10 January, with 4,632 in use.
NHS bosses have warned hospitals could "hit the limit" of their capacity this week.
"I think, this next week, we will be at the limit of what we probably have the physical space and the people to safely do," Danny Mortimer, the chief executive of the NHS Confederation, said.
"And, of course, this is the week when we expect also the highest rate of admissions, the highest demand for the care that we're providing."
The latest figures from NHS England show the number of trusts that were, on average, at full capacity in adult critical care across an entire week rose from four to 10 in the week to 10 January.
This was the highest number in the last 10 weeks for which data was available.
The increase comes despite trusts adding an additional 50% "surge" capacity across the summer and autumn to cope with winter pressures, according to NHS England.
Overall, 30 acute hospital trusts in England had no spare adult critical care beds on 10 January alone. But daily admissions figures can vary from day-to-day as patients move in and out of intensive care.
Speaking on the Andrew Marr Show on Sunday, NHS England chief executive Sir Simon Stevens said nine critical care patients had recently been transferred to other parts of the country because of no beds being available in their local area.
Speaking about all admissions, Sir Simon said hospitals in England had seen an increase of 15,000 inpatients since Christmas Day.
"That's the equivalent of filling 30 hospitals full of coronavirus patients and staggeringly every 30 seconds across England another patient is being admitted to hospital with coronavirus," he added.
Helen Buckingham, from Health think-tank The Nuffield Trust, said the NHS was facing a winter "like no other" and, on top of rising coronavirus hospital admissions, critical care beds were also required for non-Covid patients.
"The NHS has pulled out all the stops to create more beds this year, and hospitals are working together so that patients who need critical care can be moved to other hospitals as necessary - but without more fully trained critical care staff there isn't much further the service can go," she said.
The figures only tell part of the story. The creation of extra beds to cope with rising numbers of Covid patients has come at a price.
Critical care beds have been set up in overspill areas including departments usually reserved for operations. What is more, there is no extra staff to look after these extra patients - so specialist intensive care nurses have been stretched across more patients than normal. Instead of providing one-to-one care for the most sick, some areas are seeing nurses looking after three or four patients.
Staff from other areas have had to be redeployed into critical care departments too.
That of course comes at a cost to non-Covid services and is part of the reason we have seen planned surgery and even cancer care being cut back on.
University Hospitals Birmingham NHS Trust said it had "significantly" more patients in hospital with Covid-19 than in April last year.
The trust had 147 critical care beds available across its hospitals as of 10 January, all of which were full as of the latest figures.
A spokesman said the trust would continue to extend its intensive care teams "so they are able to treat the rising number of Covid-19 patients and those who require time-critical surgery, including cancer operations".
Airedale NHS Foundation Trust, despite having nine critical care beds overall, said it did not normally experience full occupancy at this time in the year and the ward had both Covid and non-Covid patients.
"We are experiencing normal winter pressures across the trust, combined with an increasing number of Covid-19 patients, particularly over the last week," a spokeswoman said.
"Every bed in ICU that is occupied by a Covid-19 patient is one less available for people who need that level of care for other reasons."
Sir Simon said the current number of patients in critical care was a "clear indication of the huge pressure on the NHS", including ambulance and mental health services as well as hospitals.
"The likelihood is, even with a stabilising of infections in some parts of the country, we're still seeing increases in infections among the over-60s in many parts of the country," he added.
"The forecasts are the pressure on hospitals will only get more intense over the next several weeks."
NHS England said critical care services were under "unprecedented pressure".
A spokeswoman added that hospitals had "tried and tested plans in place" to manage pressure from increased Covid-19 and non-Covid patients, including mutual aid practices where hospitals work together to manage admissions.
Additional analysis by Ben Butcher
Related Internet Links
The BBC is not responsible for the content of external sites.