Seven jailed over London 'free Tommy Robinson' protest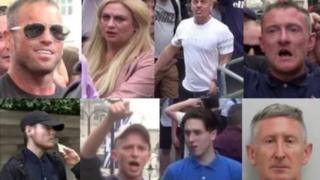 A group including a man who took over a tourist bus were involved in "serious acts of violence" during a pro-Tommy Robinson demonstration in London, a court heard.
Seven men were jailed at Southwark Crown Court over the violent disorder in June 2018, which caused injuries to about 20 officers.
The "terrifying disorder wreaked by these individuals" was "inexcusable", the Crown Prosecution Service said.
Six others will be sentenced on Monday.
Prosecutor Aska Fujita told the court police had become "over-run" by disorder from those demanding the release of the ex-English Defence League (EDL) leader, whose real name is Stephen Yaxley-Lennon, from prison for contempt of court.
'Punched and kicked'
Chants rang out during the protest, while demonstrators could be seen on camera shouting "shame on you" at the police, adding, "you're not English any more" to the tune of a hymn.
"The police have been constantly abused, missiles were thrown at them, they have been punched, kicked and had barriers thrown at them," said Ms Fujita.
"The number of defendants does not reflect the actual occurrence of violence - police have tried incredibly hard to identify the people involved."
Detectives had to trawl through hundreds of hours of CCTV and videos to identify those involved.
"Each of the defendants were involved in serious acts of violence, including using weapons that could have caused serious injury," added Ms Fujita.
Eight people pleaded guilty to violent disorder:
Robert Sandford, 47, of Bolton Road, Hungerhill, Greater Manchester, was jailed for 14 months after he was among those to "take over" a bus full of tourists before hurling a traffic cone
Keith O'Sullivan, 40, of Holmstead Way, Luton, Bedfordshire, was jailed for 23 months after he threw traffic cones and a metal barrier
Danny Grealey, 43, of Ebberns Road, Hemel Hempstead, Hertfordshire, was given an 18-month sentence after he admitted throwing a traffic cone at police
Andrew McLean, 20, of Field Street, Wolverhampton, West Midlands, was given an 18-month term at a young offenders institution
Kai Smith, 19, of Middleton Close, Chingford, east London, was jailed for 15 months, after being described as "at the head of a group chasing officers" into retreat. He was seen holding a stick and throwing missiles
David Anderson, 24, of Moraine Drive, Glasgow, was jailed for 14 months for throwing two bottles at police
Carl Backland, 59, of Grafton Way, Camden, north-west London, was sentenced to nine months in prison for throwing two cans at a police officer at close range after trying and failing to make his way to a counter-protest
Kate Beveridge, 35, of, Pool Foot Lane, Singleton, Lancashire, was given a 15-month jail term, suspended for 18 months, and ordered to carry out 200 hours' community service after she threw a one-litre plastic drinks bottle at police