Super Break and Late Rooms holiday firms in administration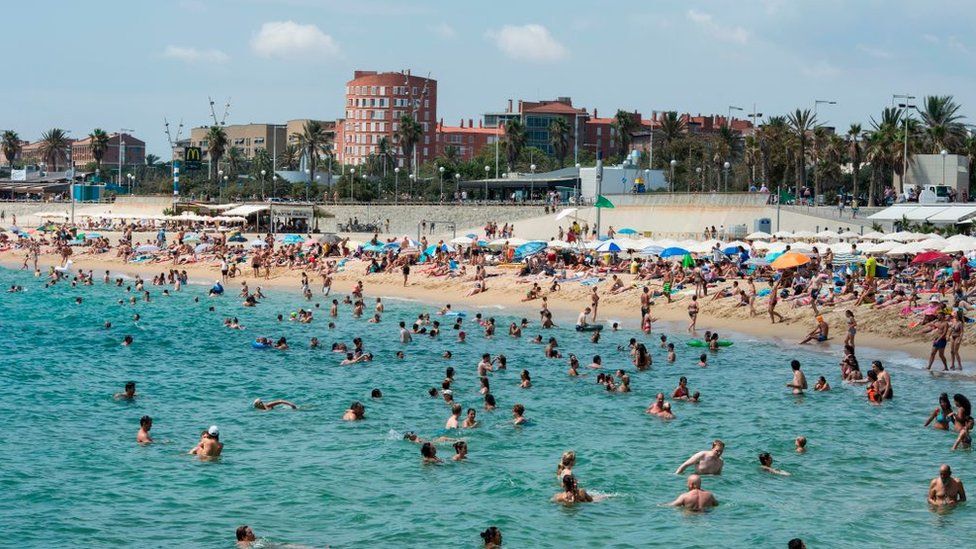 Two package holiday firms have collapsed, affecting more than 50,000 travellers.
Malvern Group, which incorporates Manchester-based Late Rooms and York-based Superbreak Mini Holidays, known as Super Break, have ceased trading.
The group said Super Break hotel-only holidays would be cancelled and people currently on holiday might have to pay again.
It said it "anticipated" bookings through Late Rooms would be secure.
Malvern Group said those on Super Break package holidays would be protected by travel association Abta but that gift vouchers and tickets for entertainment and attractions were no longer valid.
Leona Gibbons, from Hull, said she paid Super Break £779 for her honeymoon, which she bought two days ago.
The bride-to-be is due to get married in four weeks' time.
"I was in tears on the phone to my mum this morning," she said.
"We were supposed to stay in the Raddison Blue Edwardian in Bloombsury, London, go to the Fawlty Towers Dining Interactive Experience and do a bit of sightseeing.
"Our honeymoon is now ruined unless we can magic up more money.
"We've worked so hard this year to pay for the wedding and we were looking forward to having some time away.
"However, me and my partner might have to cancel the honeymoon."
Booked a SuperBreak break yesterday pm, woke to the news that they've gone bust within a couple of hours. Felt sick this morning until my train tickets arrived & the theatre confirmed my seats. Just waiting for the hotel and the card refund as I rang to stop the transaction!

— Mark Leary (@emesel79) August 2, 2019
We are aware that ABTA Member @SuperBreak (ABTA Number Y1453) has regrettably ceased trading today, 1 August 2019. We have advice for customers who have future bookings with the company and those currently on a Super Break holiday at https://t.co/ut7n002auI

— ABTA (@ABTAtravel) August 1, 2019
Danielle Atkins, who bought £200 of Super Break vouchers as a Christmas present for her grandparents, said it felt like her money had been stolen.
After contacting her bank earlier, Ms Atkins, from Carlisle, said she received a response that left her "absolutely gutted".
"The bank have come back to me to say it's unlikely I'll get my money back as the transaction is over 180 days old.
"Super Break has not replied to any correspondence at all. All it says is 'contact your bank', which is not helpful.
"I'm a single parent and work really hard to treat my family at Christmas and it feels like they've stolen my money."
Malvern said its contact centre had closed and it intended to appoint administrators on Friday.
In a statement, Abta said: "If you booked directly with Late Rooms, customers are advised to contact the hotel as we understand that payments were made directly to the hotels and therefore bookings should go ahead as planned."
In regards to Super Break, it said the "vast majority" of holidaymakers' arrangements would be covered through Abta, Atol or credit card companies.
It said: "These customers will either be entitled to a refund or, if they've booked through another travel company, they should contact them to discuss options which may include continuing with their booking, re-booking or alternative arrangements."
Really sorry to hear this. I used the company several times and have always had great service, great value and great experiences. #Superbreak

— Sly (@Sly1036) August 2, 2019
It's fair to say, today hasn't gone as planned.
I've had the best, most amazing 5 years working for SuperBreak, LateRooms and Malvern company however it's come to a sudden end after been made aware the company is in... https://t.co/tZvGA40ym1

— maria lopez (@chlo_mh) August 1, 2019
Super Break was established in 1983 and specialised in short city breaks in the UK and overseas, employing about 250 people.
Abta said Super Break has 400 customers on holiday overseas or in the UK and 20,000 forward bookings affecting 53,000 customers.
It suggested rail, coach or Eurostar tickets might be valid for travel. Rail company LNER said it would honour all existing tickets.
Merlin Entertainments, which owns a number of attractions including Legoland, Alton Towers and Chessington World of Adventures Resort, said it was "unable to accept any outstanding Super Break vouchers for standard redemption at its attractions".
But, the company said it would offer affected customers "a 50% discount off the gate price as a gesture of goodwill".
Related Internet Links
The BBC is not responsible for the content of external sites.