Flooding shuts roads and rail lines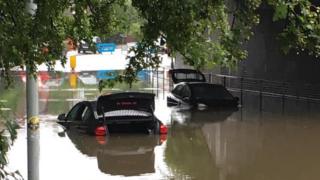 Roads and rail lines have been flooded across parts of England after half a month's worth of rain fell in 24 hours.
A section of the A555 Manchester Airport Relief Road has been shut in both directions, according to traffic data firm Inrix, causing disruption.
A block of flats and other homes were evacuated in Leicestershire, while roads have flooded in Peterborough.
The Environment Agency urged people to avoid swollen rivers and not to drive through flood water.
Flood alerts have been issued across the UK.
The monthly average rainfall in north-west England in July is 89.5mm, according to meteorologist Helen Roberts. Parts of the region have seen 40mm to 53mm of rain in about 24 hours since Saturday morning.
Ms Roberts said: "This is a lot of rain... especially given the rain has been very consistent and there have been heavy bursts within it."
Earlier in the day, parts of the M60 motorway were temporarily shut, while trains between Manchester Victoria station and Southport were delayed.
Greater Manchester Fire and Rescue Service said they had attended seven incidents of flooding since 06:00 BST.
A driver of a Lamborghini crashed on the M66 near Ramsbottom after they "lost control on standing water", Greater Manchester Police said.
Heavy rain also led to delays at the Senior Open at Royal Lytham and St Annes Golf Club in Lancashire.
Flooding meant the cycling section of the Outlaw Triathlon in Nottingham was cancelled for the first time in the event's history due to "dangerous conditions".
While swim and marathon went ahead, organisers said: "We are gutted that our 10-year anniversary celebrations and so much hard work and preparation by athletes was affected by the weather."
The wet weather comes after a week in which Britain saw hot temperatures and thunderstorms, which caused problems for train and air passengers.
Heavy showers and storms could continue in parts of the UK on Monday and Tuesday.