Boris Johnson called 'liar' in Buckingham Palace stunt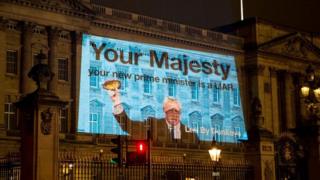 A video calling new Prime Minister Boris Johnson a "liar" has been projected on to Buckingham Palace.
The stunt by campaign group Led by Donkeys features a picture of Mr Johnson captioned: "Your Majesty, your new Prime Minister is a liar".
A similar projection appeared on Windsor Castle calling the PM a "threat".
The BBC has contacted the Conservative Party and Mr Johnson's campaign team for a response.
The video projected on the main facade of the Queen's residence in London featured a picture of the former foreign secretary holding a kipper.
It was a reference to Mr Johnson's claim that the EU's "pointless, expensive, environmentally damaging health and safety" regulations were damaging the trade in kippers.
It appeared in the early hours of Wednesday, hours before Mr Johnson went to Buckingham Palace to be invited by the Queen to form a government.
The video projected on Windsor Castle on Tuesday evening called the new Conservative leader a "bully" and featured a clip of Mr Johnson being challenged by BBC presenter Eddie Mair on the Andrew Marr show.
During the 2013 interview, Mr Johnson was pressed over whether he had lied to Conservative leader Michael Howard about allegations of an affair in 2004 - which resulted in his resignation as shadow arts minister - as well as claims he had been sacked from the Times during the late 1980s.
He was also pressed over a 1990 phone conversation where Mr Johnson purportedly agreed to hand over the private address of a journalist who one of his friends wanted beaten up.
Referencing the allegations, Mr Mair said: "You are a nasty bit of work, aren't you?"
Mr Johnson replied saying if he had more time he would explain why he thought all three "interpretations" are "not wholly fair".
He later defended himself saying he was set to talk about the Olympics and London housing but Mr Mair wanted to talk about things of "quite some antiquity, the details of which I wasn't brilliant on."
The video projected on to Windsor Castle also featured the former foreign secretary's claim, painted on the side of the Vote Leave campaign bus, that the UK sends £350m a week to the EU.
Led by Donkeys told the BBC the projections aim to "highlight Boris Johnson's record of lying".