Hot weather: Sunny scenes across England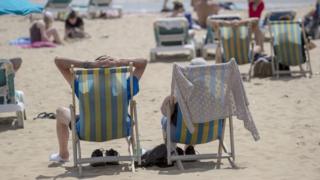 These sunny scenes show England warming up for the weekend that could bring the hottest day of the year so far.
At Glastonbury Festival temperatures reached 28.3C (83F) on Friday, some way off the record for the hottest festival day of 31.2C (88F) set in 2017.
On Saturday London and the east of England could bask in highs of 34C (93.2F), according to the Met Office.
That would beat 2019's current record of 28.8C (84F), which was set in Weybourne in Norfolk on 2 June.
And it would not be far off the highest-ever temperature on record for June, which was 35.6C (96F) in 1976.
Police have warned people not to play near or swim in rivers, lakes and reservoirs after a 12-year-old Shukri Yahya Abdi drowned in a river in Bury.
Two men who were pulled from the sea off Torquay, Devon, have also died.
The fire services in Greater Manchester and Lancashire also urged the public not to light BBQs, start fires or discard smoking materials in the local countryside.
Its warning comes exactly a year on from the start of the wildfire that ravaged moorland on Winter Hill in Lancashire for 41 days.
The hottest Glastonbury overall was 1989 when temperatures averaged about 26C (78.8F) over the entire three days.
This year organisers are giving away free sun lotion and water to help festivalgoers cope with the heat.