Deepcut Army recruit Pte Geoff Gray's death was suicide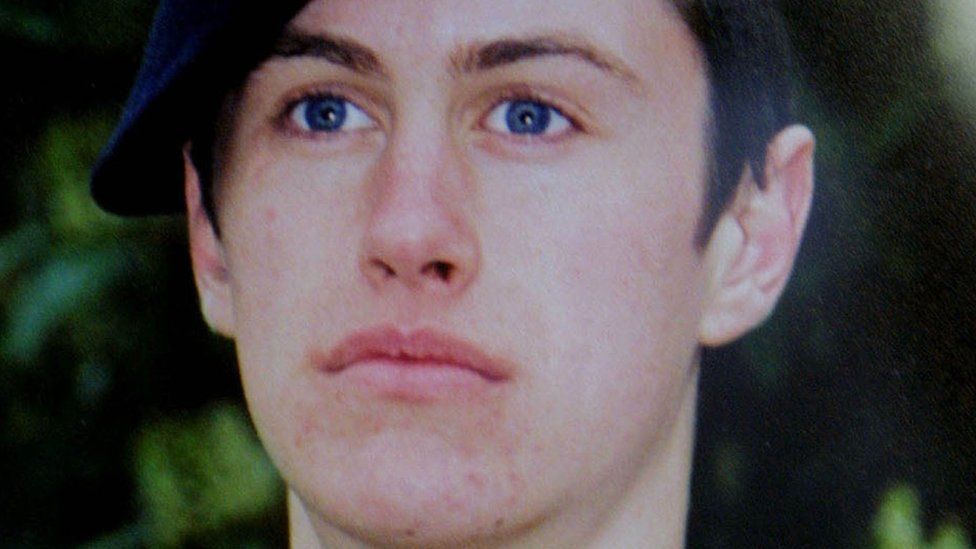 The death of a teenage recruit shot dead at Deepcut barracks 18 years ago was a suicide, a coroner has ruled after a new inquest.
Pte Geoff Gray, 17 - one of four soldiers to die at the Surrey base between 1995 and 2002 - was found with two gunshot wounds to his head.
His parents had claimed another person had pulled the trigger.
Delivering his conclusions at Woking Coroner's Court, Judge Coroner Peter Rook QC said Pte Gray killed himself.
The inquest heard there was no suggestion Pte Gray was ever the victim of mistreatment or bullying at Deepcut, and had been happy and "Army barmy" from a young age.
But the coroner said he created an opportunity to be alone with the rifle.
He said: "I am sure that when Geoff administered the shots himself he intended to end his life."
The coroner also said he had not sought to explain why Pte Gray fired the rifle, but he accepted expert evidence that apparently inexplicable suicides can occur "out of the blue".
However, had Pte Gray not been on guard duty that night with access to a firearm and the opportunity to use it out of the sight of others, he might well have never taken his own life, the coroner said.
After the hearing Pte Gray's mother Diane said: "It still doesn't make any sense. This is only one man's decision. We were denied a jury. He's making an assumption and he blamed the police and army for making assumptions when he made his own assumption that Geoff killed himself, with no proof."
She called again for a public inquiry and said "we still have a lot of material that hasn't come to light".
Geoff Gray, Pte Gray's father, said 30,000 pages disclosed by Surrey Police had been ruled out of the scope of the inquest and not made public "because of data protection laws".
The original inquest into the death of Pte Gray, who was from Seaham, County Durham, ended with an open verdict in 2002.
A second hearing was ordered after Pte Gray's parents argued fresh evidence had come to light, but their application for a jury inquest was rejected.
Judge Rook said Pte Gray was still a child at the time of his death and there would have been a "multi-agency response" had it happened today.
But the investigation at the time was was "cursory" and carried out "with a closed mind", he said.
"Mr and Mrs Gray should not have been put in this position. They were correct to seek a fresh inquest," he added.
Brigadier Christopher Coles, head of army personnel services group, said: "The army deeply regrets Geoff's death.
"We accept the initial investigation was clearly lacking. The facts should have been established at a much earlier stage.
"We took too long to implement the changes needed."
He said while the conclusion was a "cause of the greatest sadness", it laid to rest rumours about third party involvement.
"The coroner has made it clear such speculation is baseless," he said.
Second inquests were also held into Pte Cheryl James and Pte Sean Benton who died prior to Pte Gray.
They concluded the recruits had killed themselves, after evidence was heard about bullying and a lack of care at the barracks.
Judge Rook said the Ministry of Defence had failed to learn from their deaths, and, by 2001 had still not taken action to avoid the need for Phase 2 trainees to perform guard duty.
The coroner said: "No Phase 2 trainee should have been on unsupervised armed guard duty in 2001.
"The problem has now been addressed. In Geoff's case, it was too late."
Related Internet Links
The BBC is not responsible for the content of external sites.