Champions League: Liverpool and Spurs fans invade Madrid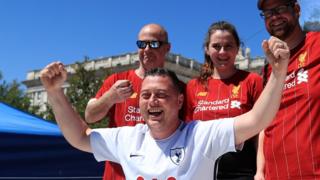 Thousands of Liverpool and Tottenham Hotspur fans are in Madrid for the Champions League final.
The Premier League sides meet at the Wanda Metropolitano stadium on Saturday evening, after both made remarkable comebacks in the semi-finals.
Many supporters spent Friday making the journey to Spain from the UK.
Uefa said "an organised group of people impersonating genuine stewards" was behind a plot to steal match tickets and warned fans to be on their guard.
It said the group's aim was to steal tickets "as if they were conducting the visual or technical ticket check".
Spurs and Liverpool fans are sharing 33,226 tickets for the final, which takes place at the 68,000-capacity home of Atletico Madrid.
Fans have been warned only to show their tickets at clearly marked check zones outside the Wanda Metropolitano.
Spanish police have arrested a number of people for selling fake tickets, including a pair who were allegedly attempting to sell counterfeits near the Liverpool fans' meeting point in Madrid.
The UK government has issued travel advice those heading to the Spanish capital.
Spanish police have told English football fans to "behave like tourists", as an extra 1,300 officers have been deployed to cope with the influx of supporters.
An acknowledgement from both sets of fans is that the Liverpool contingent is so far outnumbering that of their north London rivals.
Police said supporters had so far been well-behaved.
Officer Jose Ramon Carrasco said: "We understand they're going to be noisy, happy or singing or whatever - that's understandable.
"What's not understandable is maybe throwing bottles in the street, getting into fights. We don't accept that."
About 9,000 flights were estimated to have taken off from the UK on Friday, which would exceed the previous record of 8,854 set on 25 May last year, a day before Liverpool's appearance in the 2018 final.
Air traffic controller Nats has predicted an extra 800 flights over the weekend.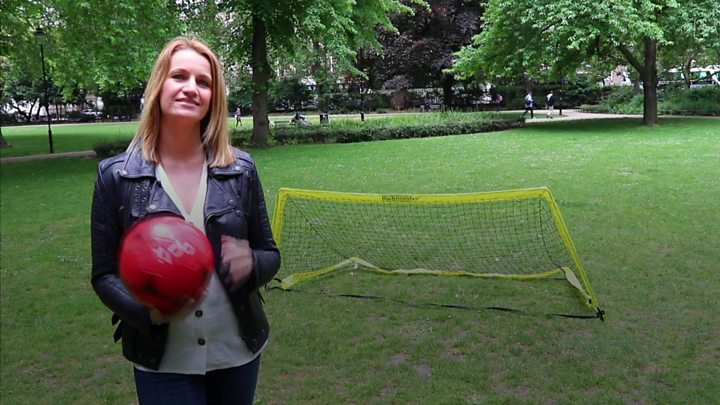 But some people have expressed frustration at a delay in getting their travel details through for chartered flights.
Thomas Cook said it had been awaiting the flight times from Madrid airport, but all passengers had now received their itineraries.
A company spokesman said its six flights would arrive in Madrid at least six hours before the kick-off, allowing fans to "soak up the atmosphere".
To avoid flight issues, Anthony Gibson and three fellow Spurs-supporting friends from Northampton drove the 1,100 miles (1,800km) to Madrid, setting off on Thursday evening.
"Living in Northampton, every Spurs game for us is an away game - this is the ultimate one," Mr Gibson said.
"I'm 42 and we have all had season tickets for 15 years. We've not had anything this big in our time. It's a once-in-a-lifetime thing."
Mr Gibson said he and his friends had been offered £15,000 for their four £60 tickets.
"Some people have asked if we are mad, especially my wife, but if you do not make the journey it's one of those things you will regret."
He said he had seen plenty of other Spurs fans on the roads of Europe bound for Madrid, including many who did not have match tickets.
Sisters Toni Moran and Collette Slater, "born and bred" Liverpool fans, flew to Madrid with family - including a nephew who travelled from Sydney.
"There's a good atmosphere down here at the airport, it's lovely to see all the flags. Everyone is really looking forward to the match," Ms Slater said.
Manchester Airport also had a message for fans flying from there, as shared on Twitter by Tracey Moore.
Other passengers have already noticed a lot of football fans as well, if Claire Petros' video is anything to go by.
Dr Petros, who is a part of her friend Pip Rowe's hen party, said her flight from Stansted to Madrid saw "lots of drinking" and chants but all was "positive and fun".
Another Liverpool fan, YouTuber Simon Wilson, is driving to Madrid in a car he bought for £40.
Spurs fan Nick Rabbits, an English journalist who works in Ireland, said seeing his team in a European final was too good an opportunity to miss.
"In the wake of our win in the semi-final I went immediately online," Mr Rabbits said.
"All the cheap routes had been taken by Liverpool fans because they had a 24-hour head start, so I went for this one.
"Ask me on Sunday if it has been worth it," he said.