School holiday fines: Parents hit by penalties rise 93%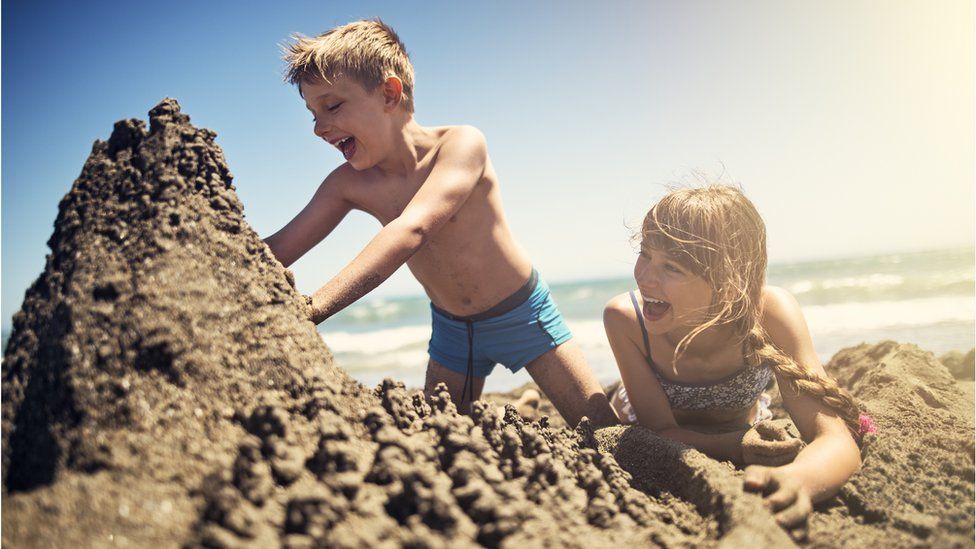 The number of fines issued to parents in England for taking children on term time holidays has almost doubled in a year, statistics show.
Penalty notices rose by 93% to almost 223,000 in 2017-18.
Jon Platt, a father who lost a Supreme Court battle against a fine, said he felt "partly responsible" for the rise.
"Unauthorised family holiday absence" was the most common reason for attendance fines, the Department for Education (DfE) said.
Sorry, your browser cannot display this map
Councils can require parents to pay £60 each per child taken out of school without permission.
This rises to £120 if not paid within 21 days, and after 28 days parents can be prosecuted.
Overall in 2017-18 there were 260,877 penalty notices issued for unauthorised absence from school.
Of these, just over one in 10 was withdrawn.
There were 19,518 prosecutions in England in 2017-18 for non-payment of the fines, up from 13,324 the year before.
'I feel partly responsible'
Jon Platt, from the Isle of Wight, said he felt "partly responsible" for fines increasing in the past year.
He was fined after taking his daughter on holiday to Florida during term time and challenged the case in the courts.
Since the ruling he said the law had become "harsher and stricter".
"There is clarity [on the law] but it's a draconian clarity," he said. "It's disappointing to see that where there were tens of thousands of parents being fined, it's now hundreds of thousands."
Mr Platt has now put his children into private education, exempting himself from further fines from the council.
"I would very much like the government to look at this again, but I don't think they will," he added.
In a report accompanying the statistics the DfE said it had contacted councils following the court case.
It said all six that responded said the Supreme Court judgement in this case "had an effect on the number of penalty notices issued in 2017-18, either as a result of returning to pre-court case levels following a slowdown or from a change in behaviour as a result of the ruling."
You may also be interested in:
The Campaign for Real Education said fines should be used a "last resort".
Its chairman, retired head teacher Chris McGovern, said taking a child out of school for a "cheap holiday" could be a "remarkably selfish action".
He said term time holidays were disruptive to the absent student and the rest of the class.
"Teachers are distracted from their regular teaching by having to help the absentees to catch up," he said.
He added term time holidays were mostly "for the benefit of the parents, rather than the children".
Jane Lynch, from Margate, said she budgets for the cost of fines when planning a trip because it was still cheaper than paying full price during the school break.
The 37-year-old, who works with her husband in childcare, said prices "double" after term finishes.
She says this has an additional cost because there is more work available for her during school holidays.
"We never take them out near exam periods," she said. "We can't see how going away once a year hurts."
Parents are responsible for ensuring their children receive an education.
In September 2013 the government changed the law so head teachers could only grant a leave of absence to pupils during term time in "exceptional circumstances".
Penalties can be issued to parents who fail to make their child regularly attend the school they are registered at.
This applies to children who are aged five to fifteen at the start of the academic year.
Schools in Wales are allowed to grant pupils up to 10 days absence for a family holiday during term time.
In Scotland there are no fines but the government says schools will not normally give a family permission to take pupils out of school for trips.
In Northern Ireland term time holidays are considered unauthorised absences, but there are no fines.
Since 2016-17 the number of penalty notices issued to parents for unauthorised absences overall has increased by 75%.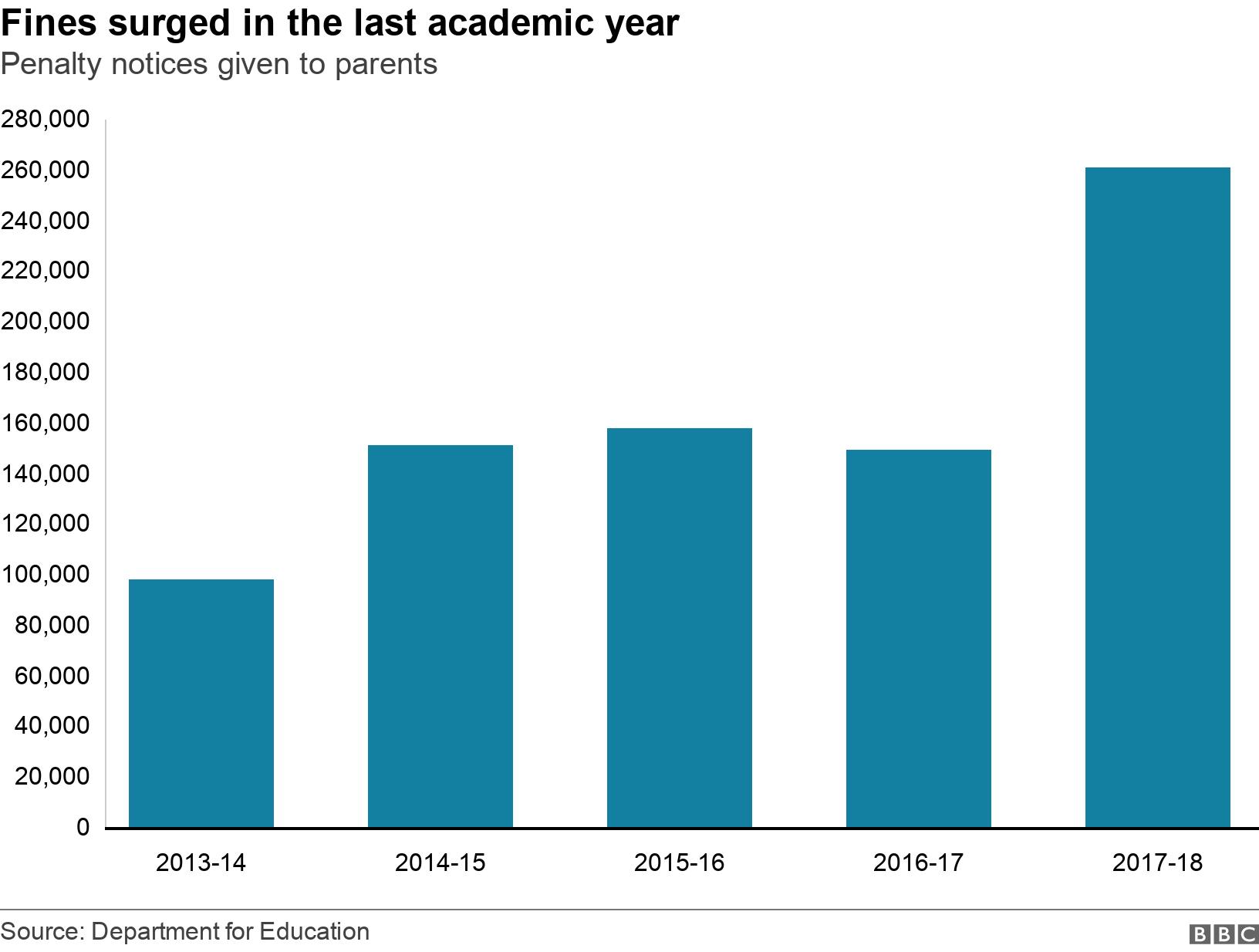 In the 2017-18 academic year family holidays accounted for 85% of fines issued, but fines were also issued for pupils arriving late to school.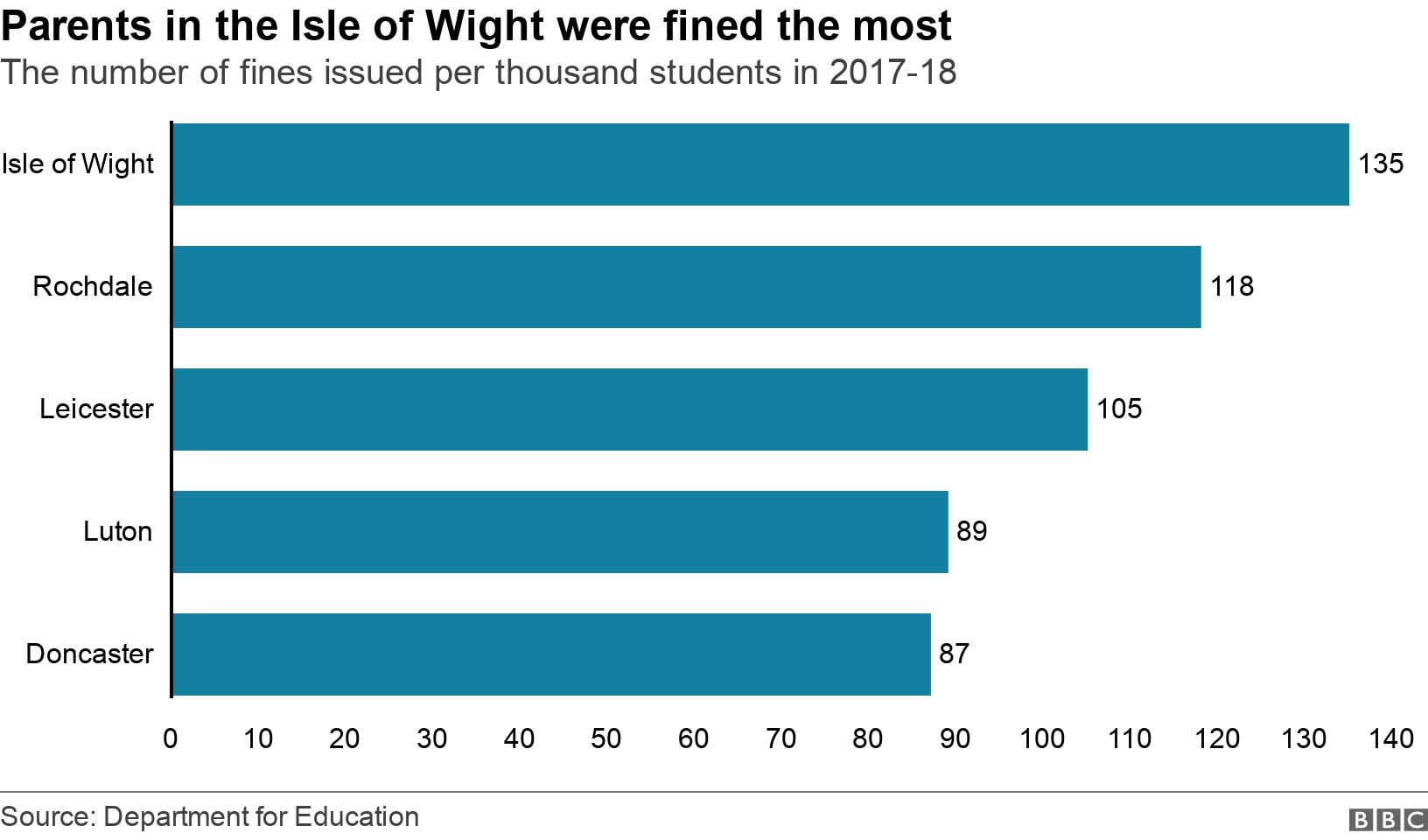 The Isle of Wight Council said the money from penalty notices was used to cover the costs of administering and enforcing the fines scheme.
The National Association of Head Teachers (NAHT) said children should miss "as little time at school as possible".
However, a spokesman said the current system of fines was "clearly too blunt an instrument" which "drives a wedge between schools and families".
The association added the "real problem" was holiday prices, putting families "between a rock and a hard place".
A spokesman for DfE said children should not be taken out of school "without good reason".
"We have put head teachers back in control by supporting them - and local authorities - to use their powers to deal with unauthorised absence."
Related Internet Links
The BBC is not responsible for the content of external sites.