Equine flu: Donkey charity closes centres to the public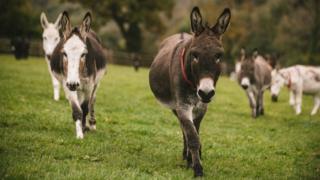 A donkey rescue charity has closed its five public centres in England following the equine flu outbreak.
The Donkey Sanctuary said the move was "precautionary" and none of its resident donkeys had been affected by the outbreak.
The charity said its centres in Manchester, Leeds, Birmingham, Ivybridge and Sidmouth would remain closed until further notice.
A spokeswoman said: "Our number one priority is our donkeys and mules."
She said the centres in the North and Midlands were closed last week while the decision was taken to close the two Devon centres on Friday after a case of equine flu was reported in Somerset.
"We hope that supporters will understand the call that we have made," she added.
The Donkey Sanctuary was launched by Dr Elisabeth Svendsen in 1969 when she bought her first donkey for £45 while running a hotel in Devon.
Since then it has cared for 20,000 donkeys around the world.
Equine flu - not unlike human flu - is endemic in Britain.
The virus is generally not thought to be life-threatening, but debilitates the animal, leaving an equine susceptible to secondary infections.
It may also develop into a more serious respiratory disorder.