New Year's Day dips attract England's hardy swimmers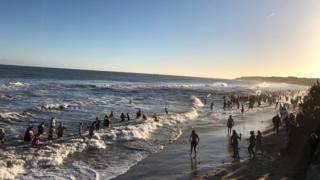 Hundreds of hardy people have braved the North and Irish seas, as well as marinas and lakes around England, for New Year's Day dips.
At Whitley Bay on Tyneside, those who ran or tiptoed, into the water faced a temperature of about 8C (46F).
Dippers at Clevedon Marine Lake were warned to expect it to be even colder at between 3 and 5C (37 and 41F).
At Port Erin on the Isle of Man some went for costumes offering a little - presumably, short-lived - protection.