Rail regulator says industry 'must put passengers first'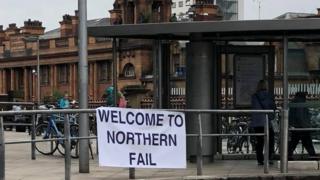 An inquiry into train timetable chaos over the summer has recommended the interests of passengers should be a "central consideration" in future.
Train operators Northern and Govia Thameslink were widely criticised after hundreds of services were cancelled or delayed in May and beyond.
An Office of Rail and Road (ORR) report accused the industry of "complacency".
The regulator called for the rail operators to improve how information was provided to customers.
Government-owned company Network Rail has also been ordered by the ORR to publish a plan explaining how it will evaluate the way new services are added to timetables.
Northern services suffered a summer of "chaos" following timetable changes in May, while RMT staff have been staging ongoing strikes in a long-running dispute over train guards.
Govia Thameslink routes into London were also badly affected.
The extent of the problem was highlighted in the report by a huge spike in compensation claims to Northern rail.
The disruption was so severe that even though the timetable change only took effect from 20 May, the number of claims recorded between 28 April and 26 May was more than double that of the previous four weeks.
In the next four weeks, they almost doubled again, with 39,968 claims - an average of almost 1,500 a day.
The Office of Rail and Road recommendations form the second phase of a review, led by ORR chairman Stephen Glaister.
Prof Glaister said passengers were "let down" by the rail industry over the summer.
"We found systemic failures that needed to be resolved in order to reduce the possibility that passengers have to endure these conditions again," he said.
"Our recommendations will now mean that, in every project, impact on passengers will be a central consideration - as it should always be."
Anthony Smith, chief executive of passenger watchdog Transport Focus, called for Govia Thameslink to introduce a system of automatic compensation for delays, as part of the improvements it has been ordered to deliver.
He added: "Someone must be clearly in charge of major timetable changes in future to ensure robust oversight and with the power to hit the stop button when something is clearly not going to work."
On Tuesday, the Commons Transport Select Committee published a highly critical report which said Transport Secretary Chris Grayling should have been more proactive in preventing the chaos.
The minister told BBC Radio 4's Today programme that he had apologised "many, many times", adding "clearly we did not ask tough enough questions".
The Department for Transport has also launched a review by former British Airways chief executive Keith Williams to consider all parts of the rail industry.
Prof Glaister added: "More fundamental changes are needed in the longer term, which is the subject of the Williams Review. The ORR will contribute to that review."