Northern Powerhouse chief calls for rethink of North's rail services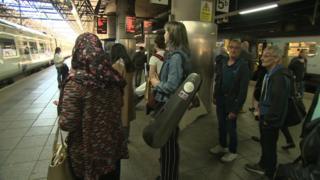 Northern political leaders have urged the government to let them help fix the region's beleaguered rail services.
Henri Murison, director of the Northern Powerhouse Partnership, called for Northern leaders to be allowed to "control the franchises in the north".
He called Northern Railway's service "unacceptable" during summer timetable chaos and TransPennine Express a "franchise in failure".
A Department for Transport spokesman said a rail review was under way.
Mr Murison's comments come after a committee of MPs said Transport Secretary Chris Grayling should have been more proactive in preventing the May timetable issues.
In a report on the timetable changes, the Transport Select Committee also said "genuine change" was needed to restore trust in the railways.
MPs said Mr Grayling was not fully informed of the serious problems caused by the changes, and it was not reasonable for him to absolve himself of all responsibility.
Lilian Greenwood, who chairs the committee, said: "It is extraordinary, and totally unacceptable, that no-one took charge of the situation and acted to avert the May timetabling crisis."
Steve Rotheram, Liverpool City Region mayor, said the select committee was right to highlight that the crisis was partly due to the "astonishing complexity" of a fragmented railway.
He added that "this further underlines the urgent need for the government to fully devolve control of the north's railways to Transport for the North".
Mr Murison said the select committee report "reflected the misery and chaos suffered by rail passengers" this year and "government must intervene to ensure it does not continue".
A spokeswoman for TransPennine Express said their "priority is operating a train service customers can rely on" and the introduction of 44 new trains in spring would provide 13 million extra seats for customers.
A Department for Transport spokesperson said: "The disruption following the May timetable change demonstrated that significant change is required in the rail industry.
"That is why we launched the Williams review to consider all parts of the industry in order to put passengers first, with reforms to begin from 2020."