Prince William and Kate enjoy fake snowball fight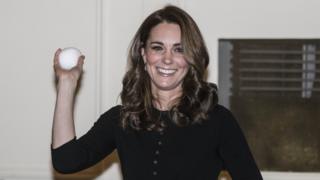 The Duke and Duchess of Cambridge have enjoyed a snowball fight with the families of RAF personnel who will be stationed overseas this Christmas.
William and Catherine hosted an event for more than 200 relatives of those based at Lincolnshire's RAF Coningsby and RAF Marham, in Norfolk.
As fake snow fell at Kensington Palace they became embroiled in an exchange of snowballs with some of those invited.
The couple used the event to thank RAF personnel for their efforts.
Catherine told her guests: "William and I just wanted to pass on our huge gratitude to all of you here today.
"As someone whose husband has served, I know how hard it feels when a loved one leaves home to do the job they've trained for.
"I can't imagine how it feels when your loved ones are away on active service over Christmas or at those special family moments."
The couple are flying to RAF Akrotiri in Cyprus on Wednesday where some of the loved ones of the families they met are based, and will take with them a collection of early Christmas presents for the RAF personnel.
One gift they will take is a bottle of aftershave for RAF Wing Commander Paul O'Grady, from Manchester, who is in Cyprus while his wife and fellow Wing Commander Claire, is serving in Afghanistan.
The couple's son, Harry, was among those invited to the event.
He was accompanied by grandparents Barrie, 72, and Ann Macdonald, 70, who take care of him when his parents are abroad.
Mrs Macdonald said: "Kate was asking Harry where his mummy and daddy were and she said to me it's quite a commitment but it was great for the family to have us pulling everything together.
"William said he'd remember Harry's name and mention him to his dad when he saw him in Cyprus."
Her husband said: "We see our main function as giving my daughter and her husband peace of mind. They've got an important job to do and they don't have time to worry about their son."