Nottinghamshire driver jailed after 'bit of fun' 100mph chase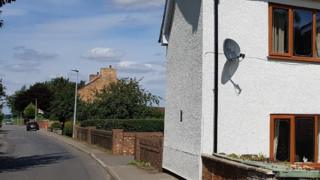 A businessman who raced at speeds of up to 100mph in a 27-mile pursuit told police "that was a bit of fun" when he was eventually stopped.
Ian Clark, a company director, was pursued by police after he was reported as a suspected drink-driver in Gainsborough, Lincolnshire.
He drove off from officers because he feared he would fail a breath test, Lincoln Crown Court heard.
Clark, 62, admitted dangerous driving and was jailed for eight months.
He was also banned from driving for two years and four months.
Phil Howes, prosecuting, said during the pursuit Clark hit 100mph in his Aston Martin as he sped away from the village of Gunthorpe in North Lincolnshire on 5 August.
He also drove at 60mph in a 30mph zone in his home village of West Stockwith, Nottinghamshire, the court was told.
Police attempted to halt Clark, of Main Street, West Stockwith, using a stinger device which punctured the tyres of his car.
But he continued driving on the wheel rims for another two miles with sparks flying from the vehicle, the court heard.
Clark was eventually halted after leaving the road and driving through a paddock and crashing through two wire fences, Mr Howes said.
However, after the Aston Martin came to a stop Clark refused to get out. Officers smashed the windscreen and removed him but as they did so he said: "That was a bit of fun boys."
Clark's breath-test reading was 37 micrograms of alcohol per 100 millilitres of breath - putting him 2 mgs over the limit but below the figure for which he would have been prosecuted.
Judge Andrew Easteal said: "This wasn't fun. The consequences could have been lethal. People could have been killed, including yourself."