Gatwick Airport masterplan 'backed by most residents'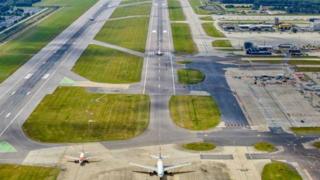 Three quarters of residents in Kent, Sussex and Surrey back plans by Gatwick Airport to use its standby runway to boost capacity, a survey has found.
The YouGov poll of 3,000 people commissioned by the airport also reveals 67% support its plans to safeguard land to build a new runway.
The airport's draft "masterplan" for future growth is currently out for public consultation.
Opposition campaign group Cagne said the poll "stinks of propaganda".
"Gatwick are purposely misleading people during this consultation and we find it absolutely appalling that Gatwick have released this poll result now when the consultation does not finish until 10 January," Communities Against Gatwick Noise and Emissions (Cagne) said.
The standby runway would be used for regular short-haul departures.
Just 14% of those questioned were opposed to Gatwick's growth plans, airport bosses said.
Airport chief executive Stewart Wingate, said: "Our draft master plan sets out our vision for the airport's sustainable growth into the 2030s and explains how it can meet the UK's increasing demand for air travel and global connectivity.
"The plan would help us to bolster the national and local economies for future generations and I encourage as many people as possible to take part in our ongoing consultation process."
Cagne said local residents had been misled into thinking the airport expansion debate was over, and that "Heathrow had won".
"But here we are with Gatwick Airport seeking a second runway by the back door and deceiving local people and businesses to the true facts of what it will mean," it said.
The campaign group said it had written to the Civil Aviation Authority "demanding" the current consultation be dismissed "as nothing more than a profile-raising stunt to increase share price whilst misleading people in providing little details to allow an informed opinion".