Club & Institute Union 'endorsed asset strippers'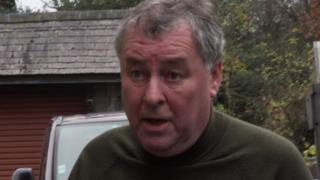 A man accused of making millions of pounds by "asset stripping" sports and social clubs was endorsed by the union set up to defend their interests, a Panorama investigation has found.
Clubs across England and Wales say they lost property and money using debt management firms run by Glyn Jones.
The Club & Institute Union (CIU) still recommended him four years after some of its 1,600 members first complained.
Mr Jones denies any wrongdoing. The CIU says he was never an approved supplier.
Mr Jones provided debt management services and secured loans to between 40 and 50 clubs seeking financial help via his Chesterfield-based companies during the past decade. The company most clubs dealt with was Minotaur Clubs Partnership.
Thirty-three of 37 clubs the BBC has spoken to - including 20 affiliated to the CIU - reported having a negative experience using Minotaur. Twenty-two eventually closed after engaging his services.
The complaints included fees not being explained, club representatives being rushed into signing complex and lengthy paperwork and control of assets being transferred to Minotaur.
'Concerned'
Consumer Credit Licence and Information Commissioner's Office (ICO) numbers that did not exist or were not registered to Mr Jones's businesses were used on headed paper, on emails and his company website - giving clubs false reassurance.
Mr Jones said Minotaur Clubs Partnership did not need to be registered with the ICO or the Office of Fair Trading (OFT). He added any claim that he deliberately misrepresented the true position of his companies' status was "comprehensively refuted".
Forensic accountant Gavin Cunningham, who examined available documentation for Panorama, said the operation "certainly seems to be a form of asset stripping".
He said if that had been done with a deliberate intent, "there certainly would seem to be grounds for a criminal investigation into this conduct". A second forensic accountant agreed with Mr Cunningham's assessment.
The BBC has seen a 2013 email from CIU president George Dawson to the Financial Conduct Authority (FCA) saying the union was "concerned" about Minotaur and "investigating what they do".
However, seven weeks after sending that email Mr Dawson registered a business address for himself at the same address as Minotaur.
Mr Jones has said he worked on "countless clubs" with the CIU president, and 11 clubs spoken to by Panorama said Mr Dawson and his colleagues recommended Minotaur to them between 2013 and 2017.
The BBC has also seen a bill sent to a club by Minotaur that included a £2,400 travel expenses charge for a CIU official to make two site visits.
Mr Dawson has not responded to any questions about his relationship with Mr Jones and Minotaur.
---
'We might as well have given the club away'
Blackpool Number One Club was one of 13 clubs the BBC spoke to that made complaints to the CIU about Minotaur.
The working men's club responded to a Minotaur letter in 2014 and engaged its services after being impressed by the company's apparent credibility. Mr Jones claims the club was in debt. The club is adamant it was not.
After receiving a secured loan from one of Mr Jones's companies the club was told its building would be sold and leased back for an initial "peppercorn rent".
Club secretary Tracy Whittle said he was expecting between £60,000 and £70,000 from the £145,000 sale after Minotaur's loan of £47,000, together with fees, charges and expenses were deducted.
However, the club received a bill for £145,843 meaning the club owed Minotaur £843. It included tens of thousands of pounds in fees the club said it was not expecting.
After challenging Mr Jones, the club said it later received £5,000.
The new annual rent of £16,000 was not affordable for the club - and it closed in June 2016.
Mr Whittle said some of the fees were not in the original paperwork.
"There's no way we would have signed up for that cost," he said. "We might as well have just given the club away."
Mr Jones said his cash injection was made so as to save the club, and added that "all fees, charges and expenses were spelled out to the club in the documentation".
---
The CIU's national executive said it could not speak for Mr Dawson but that he "appeared to have credible responses" for the matters raised by the BBC.
It said it could "only advise clubs, who are fiercely independent", and said it "welcomed" Panorama's investigation.
The union added it had never awarded Minotaur national approved supplier status.
---
'They were such easy pickings'
Cotswolds-based Chipping Norton Town Football Club lost ownership of its land and now plays five miles away on a borrowed pitch after dealing with Minotaur.
Mr Jones's company sold part of the team's three acres of land to a housing developer in a deal originally intended to boost the club's finances. It was in debt and could not pay its bills.
The club's trustees said they were later asked to sign a "bog standard agreement" in April 2014 which would transfer their debts to Minotaur.
However, they had actually signed over all of the club's land to a new company called Chipping Norton Sports and Social Club Limited - of which Mr Jones was the sole shareholder at the time.
The BBC has spoken to three trustees, six committee members, the town's mayor at the time and a land agent involved in the deal - and all say they were under the impression the football club still owned the land.
Minotaur's ownership of the land was revealed during a heated meeting in February 2017 at which Mr Jones was confronted by local residents.
Team manager Tym Soper told the BBC: "It's a distraction burglary - knocking on the little old lady's door, telling her the roof's leaking and then finding more and more problems.
"They offer you hopes and dreams and then just take it all away. Bless the trustees but they were such easy pickings for them."
Mr Jones did not answer Panorama's detailed questions about the transfer of the land into his ownership, but denied trustees were summoned to a signing meeting "without having seen the documentation beforehand".
---
In a statement, Mr Jones said all allegations made against him were "baseless and without foundation".
"To the very last one, all trustees, committee members and decision makers in each club were provided with documentation in advance of signing, and advised to take independent legal advice," he said.
"The business that Minotaur Clubs Partnership Limited (MCPL) was engaged in was of high risk, providing funding to badly managed and insolvent clubs... MCPL sourced funding from outside investors who knew the risks... but expected returns accordingly.
"All of the clubs which are mentioned were delighted when they received the monies arranged by MCPL."
See more on Panorama on BBC One at 20:30 GMT or on the iPlayer.