Norfolk & Suffolk NHS Foundation Trust chair quits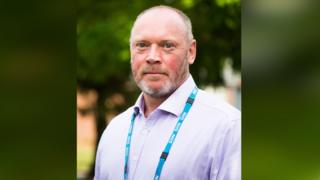 The chairman of a struggling NHS trust has resigned.
Gary Page, who was due to leave the Norfolk and Suffolk NHS Foundation Trust (NSFT) in 2019, said it would be in the organisation's "best interests" for him to step down early.
Antek Lejk, the trust's chief executive, thanked Mr Page for his "determination" to improve services.
The trust was rated inadequate by the Care Quality Commission in 2017. A new report is due to be published soon.
Mr Page, who joined NSFT as a non-executive director in 2012, admitted it was facing a number of "challenges" but said it had been a "great privilege" to chair the organisation.
'Challenges ahead'
"I have seen first-hand the amazing work our staff do to support some of the most vulnerable people in Norfolk and Suffolk," he said.
"I believe it is in the best interests of the trust for me to make way now so that those who are going to be part of the new leadership team can take forward the work that needs to be done to address the challenges which continue to face the trust."
Antek Lejk, chief executive of NSFT, said Mr Page had played "a key role" in helping to build a new executive team and "lay firm foundations".
"Although we fully appreciate that there are still challenges ahead, we are confident we have the right skills and experience in place to drive through improvements while retaining our focus on providing safe, effective services."
NSFT has had five different chief executives in five years.
Current vice-chairman Tim Newcomb will act as chair of both the board of directors and council of governors until a replacement is appointed next month.