Northern: Leaves and strikes behind rising rail delays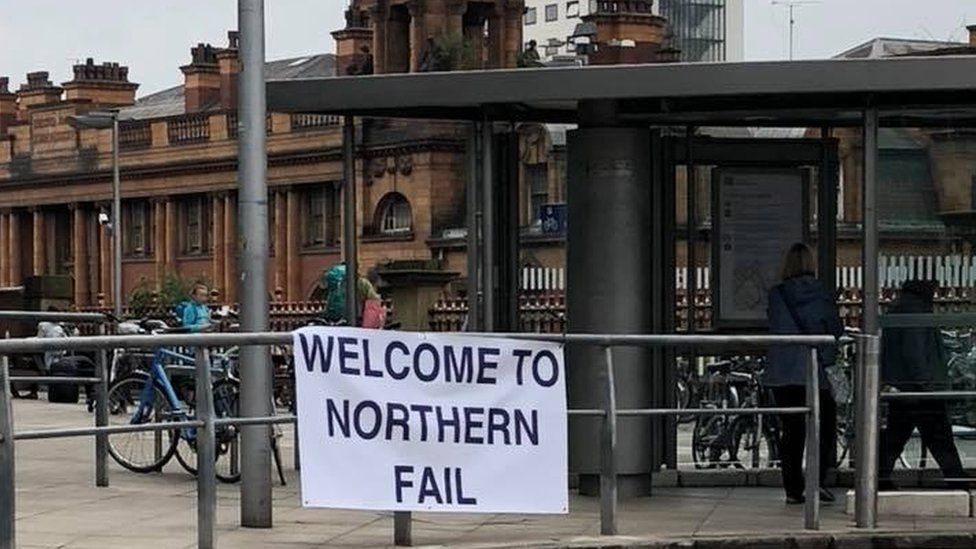 Troubled rail firm Northern says leaves on tracks and strikes have caused its worst punctuality figures for over two years.
Some 25.7% of trains were either late or cancelled in October, with the downward trend continuing in November.
Many passengers have reacted angrily.
Northern apologised, saying excess wet leaves had damaged train wheels, causing several carriages to be taken out of service, while continuing strike action had also affected services.
The north of England's other major rail company, TransPennine Express, also had punctuality issues with 30.6% of services delayed or cancelled.
Over the past two years, only July saw worse figures when 32.3% of its trains were delayed or cancelled.
Northern services suffered a summer of "chaos" following the introduction of new timetables, and RMT staff have been staging industrial action in a long-running dispute over train guards.
Labour shadow transport secretary Andrew McDonald described current delays as "breathtaking" and reiterated calls for Northern to be stripped of its franchise.
"This is just more misery for northern passengers on the back of a miserable summer," he said.
The latest train performance figures, gathered by data-scraping website trains.im, shows 85.5% of services nationally were running on time so far in November compared to 67.8% for Northern and 66.6% for Transpennine.
The website shows it is Northern's worst performance since its records began, in May 2016.
Some passengers have responded angrily to the situation, with many suggesting the rail network should have been more prepared for autumn.
Posting on Twitter, Stephen Jones asked Northern: "Has autumn crept up and taken you by surprise?"
Helen T posted: "Has the north suddenly got more trees?! You know this happens. Now go and prepare for ice and snow before you pretend that never happens too!"
However, Anna Jane Hunter, of Network Rail, explained why leaves could be so problematic.
She said: "It creates a mulch on the line basically that the train beats down to make it very hard. That can cause either problems with the train breaking, or problems with the train trying to start up.
"Or it can create a problem with the track circuitry, which means that the signaller can believe there's a train there when there isn't one."
He said: "The case for public ownership is now overwhelming."
TransPennine Express said its problems were made worse after a train hit two horses on its Anglo-Scottish route, as well as "autumnal conditions" leading to trains being taken out of service.
The Department for Transport said: "We know passengers in the North are not currently getting the services they deserve and... it is clear that much more needs to be done."
It added it was "monitoring performance closely" and "where operators are found to be at fault, we won't hesitate to take action".
Has the North suddenly got more trees?! You know this happens. Now go and prepare for ice & snow before you pretend that never happens too! 🤦🏻‍♀️🙄🙄

— Helen T (@_tinie_turner) November 19, 2018
Northern Rail give us leaves on the line as an explanation for rail cancellations. Sigh...

— George (@gestaltz) November 19, 2018
OMG I feel sorry for those who use "Northern Trains" apparently not only are there delays due to leaves on the line there delays because it happens to be damp as well. What a joke you would think as these problems happen all the time a solution would be found by now😒

— Baby Caffy (@baby_caffy) November 19, 2018
Related Internet Links
The BBC is not responsible for the content of external sites.