South Western Railway: The people hit by Waterloo delays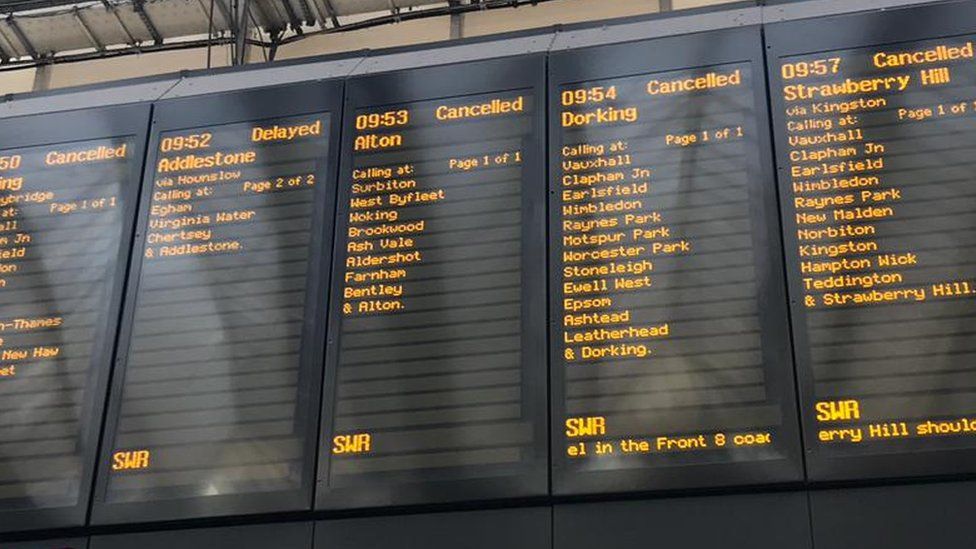 Rail commuters explain how major disruption has affected them after engineering works overran.
South Western Railway services between Surbiton and London Waterloo, the UK's busiest station, began running at around 10:00 GMT Monday morning.
With these cancellations coming as a surprise, one person told the BBC that their son has missed a "critical" hospital appointment, while another is at risk of missing her British citizenship ceremony.
Meanwhile, one person explains why the cancellations have "left him smiling".
Helen Cleaves is based in New Malden. Her son missed a "critical" hospital appointment which can only be rescheduled in February due to the disruption.
"My son's had type 1 diabetes for around a year," she told the BBC. "He's under the University College London hospital where he has a quarterly consultant review meeting.
"It was today at 9:05. There were no trains until 10am - so he missed his appointment.
"We've had a really bad weekend in terms of his diabetes kit, meaning that none of us have had any sleep for three days. That meeting felt critical.
"When I contacted the hospital this morning, the next meeting we could get with that consultant is February.
"I hold South Western Railway responsible for this. We pay an awful lot of money for travel."
Veronica from Aldershot was due to become a British citizen at a ceremony in Surbiton, taking place at 2pm. She was left worried that she would miss the ceremony.
"What I expected to be a straight 30-minute train journey has become more and more uncertain," she said. "I need to be at County Hall in Kingston at 2pm.
"My partner and best friend, attending my ceremony as guests, also only commute via train, and they're stuck in the same boat as me.
"We have no clear way to get to where we need to go.
"I don't know what we're going to do."
But not everyone is having a tough time. David Olding is based in Guildford. After getting fed up with the trains and their constant disruption, he took the final step to beat the commute - and bought a car.
"I commute in on a daily basis," David said. "I originally decided to 'go green' and commute by train.
"But with the trains being so disruptive, attempting to plan anything was difficult. The overcrowding was bad and the journey itself really wasn't a pleasant experience.
"With the continuation of train strikes and the general disruption, I bought a car yesterday.
"The fact that South Western have [faced cancellations] has made me smile to myself.
"What would traditionally be an hour and 15 minute commute, my drive in was about 35 to 40 minutes. So I have to admit, I've been smiling to myself."
Though the roads may have proven the perfect solution for David, not everyone would agree.
Matthew Smith's train from Portsmouth to London was cancelled, so he was forced to take a coach as an alternative.
"This is the only alternative at the moment due to the disruptions," he said. "Traffic is inching along, the disruption from the train cancellations has already caused a significant impact on the roads.
"For the last five weeks, I have experienced delays or cancellations by up to 45 minutes every day. There is always some issue on the network.
"Today I am resorting to catching a bus from Portsmouth as the only viable alternative."
And finally, this commuter overheard an announcement suggesting a wait so long he would have time to watch all three films in the original Star Wars trilogy - and still have 20 minutes to spare before his train.
When you have a delay like this - at what point would start to make alternative arrangements to get to London Waterloo on South Western Railway? pic.twitter.com/0bwf5p6sMb

— Jeremy Gahagan (@jeremygahagan) November 19, 2018
By UGC & Social News team