World Diabetes Day: What the condition means for families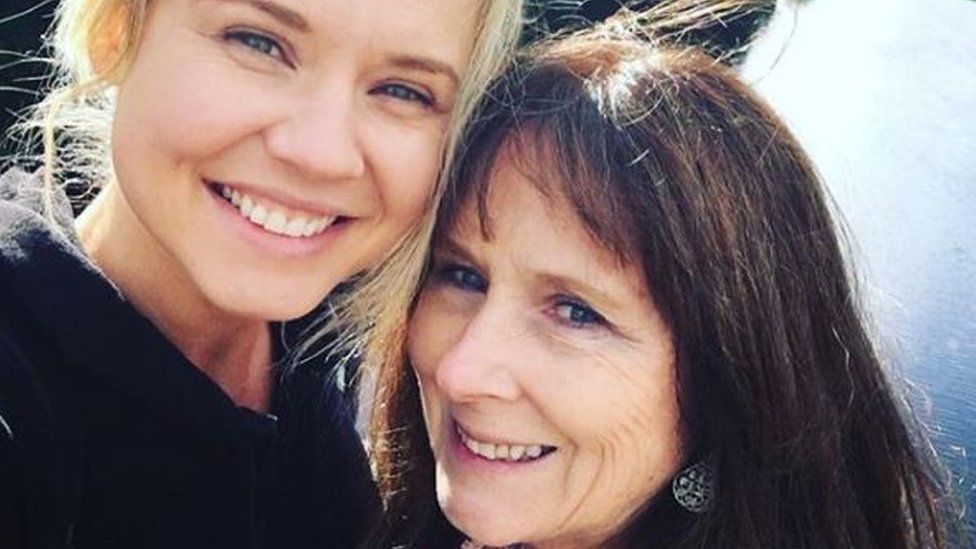 There are an estimated four million people living with diabetes in the UK. On World Diabetes Day, BBC News spoke to families affected by the condition and asked how loved ones can make all the difference.
'Your loved ones act as your pancreas'
Katie Teasdale, 31, a personal trainer in Durham, was diagnosed with Type 1 diabetes aged six. Like many other diabetics, she sometimes needs help from friends and family when her blood sugar level drops too low and she becomes hypoglycaemic, or "hypo".
"[My parents] were the ones who had to be my pancreas and consider numerous factors when giving me my insulin," she said.
"My siblings were like guardian angels, notifying my parents of my unresponsive night time hypos or if I was acting peculiar."
Mrs Teasdale said support from loved ones was "crucial in diabetes management" and called her husband Kevin her "rock".
"He can spot changes in my levels before even I do," she said.
"His patience for my mood swings, strength in treating my hypos when I can't and humour when I eat all the food in the kitchen after a hypo, are characteristics I'm forever thankful for.
"Your loved ones act as your pancreas. It can be mentally and emotionally draining for those with the disease, and their loved one affected by it."
'I knew I had to change my lifestyle for my family's sake'
Teaching assistant Ken South was 18 stone when he found out he had with Type 2 diabetes.
"I went home after my diagnosis and immediately started on the tablets - six a day every day. It was a shock for me and the family," said the 50-year-old from Folkestone, Kent.
"My son, Charlie, was very upset watching me taking all these tablets... he burst into tears and ran into his mum's arm saying he thought I was going to die.
"I was destroyed by seeing how affected my own son was by this diagnosis. At that moment, the thunderbolt struck and I knew I had to change my lifestyle - for my family's sake."
Mr South lost five stone in 10 months and no longer needs to take tablets.
"For breakfast I would fry a piece of bread to eat while I was cooking sausage bacon and egg. I'd eat that and then have a bowl of cereal before work. I could drink six litres of coke a day," he said.
"Now you look in our fridge and nothing is the same. I eat raspberries and Greek yoghurt for breakfast and we have a lot more pulses and meat free days.
"We cycle and walk a lot. My son's life, and ours as a family, is now totally changed."
'Diabetes affects all aspects of family life'
Philippa Earl, 45, set up a support group for other families after her 14 year-old son Seb was diagnosed with Type 1 diabetes in 2013.
"It's a life-changer," said the teacher from Hove. "It's a 24 hour project, you don't take your eye off the ball.
"You become a tight unit to protect your child. Often conversations will change to diabetes, it affects all aspects of family life.
"Seb has partial funding for a continual glucose monitor but I'm already thinking when he's 18 he's going to need extra money for the technology he needs to stay well.
"As a parent it's been tough coming to terms with diabetes. You feel like there is no one else like you.
"Support networks are very important in offering a sense of togetherness, in what can be a difficult journey.
"I rely a lot on friends. I can say I've had a bad night and it's comforting to know I don't have to over explain myself."
'The support of family and friends makes it a lot easier'
Hannah Postles, 33, from Sheffield, was diagnosed with Type 1 diabetes in 2011.
She said her family, boyfriend Andrew and her friends had been a "massive support" in adapting to her new life with the condition.
"My diagnosis came completely out of the blue and I would have really struggled without their support," she said.
"In 2013, I ended up seriously ill in hospital with Diabetic Ketoacidosis (DKA) a few days after my sister's wedding.
"I didn't show up for work one morning and my colleagues sent someone round to my flat to check on me.
"I was found collapsed and woke up in intensive care two days later.
"I was extremely lucky that my work friends understood just how serious diabetes can be and raised the alarm. If they hadn't, I might not be here now."
Ms Postles' sister Ellie Seaton cancelled her honeymoon and the family stayed in a hotel near the hospital.
"Once I was discharged, I went to stay with my sister while I was recovering and, once I was back home, my friends were constantly visiting and checking that I was OK.
"Living with diabetes can be difficult at times, but the support of family and friends makes it a lot easier."
'My mum and sister are amazing'
Becki Sully, from Yeovil, Somerset, said her family's help with managing her daughter Mia's diabetes had been vital.
"You can't leave the house without all her kit, she needs her insulin, treatment for if she has a hypo and snacks.
"Before just a trip to the park we need to check her blood sugar levels and plan for them to drop as she will be playing.
"My Mum and sister are really good. Sometimes you just need that little break and it's good for her to know that it's not just us who can look after her.
"Even her little brother Jake, who is five, will ask if she's OK or if she's not feeling well he will come and tell me."
Mia is also keen to help other children who have diabetes, she said.
"Recently, she spoke to a five-year-old girl in hospital who was diagnosed and tried to help her not to feel too scared."
Related Internet Links
The BBC is not responsible for the content of external sites.