Daughter of murdered mum Natalie Hemming backs abuse scheme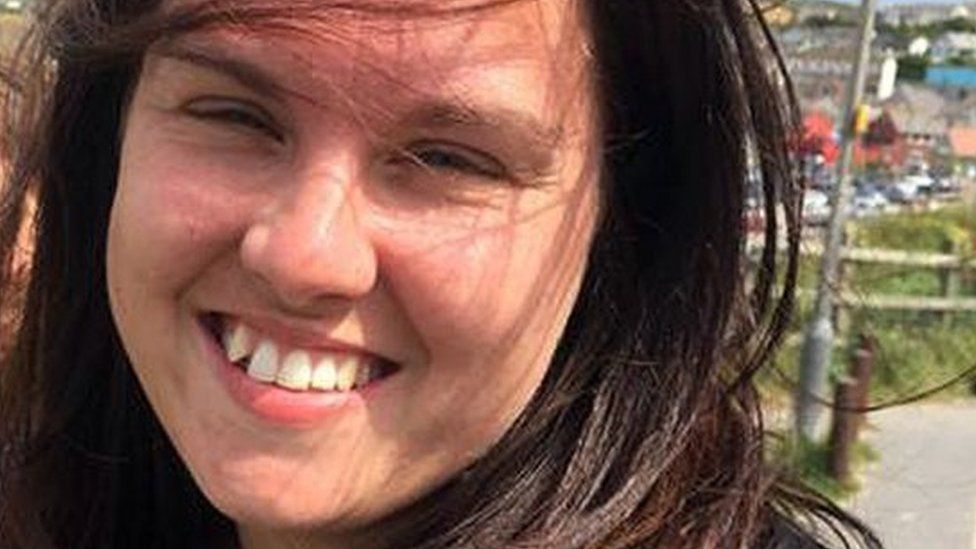 A teenager whose mother was killed by her partner is supporting a scheme that sees police tell a child's school about domestic abuse at home.
Kirstie and her brother and sister were asleep when mum Natalie Hemming was murdered by Paul Hemming.
The 14-year-old said it was vital young people got help and support at school.
Figures for the scheme show authorities have contacted schools in England and Wales more than 46,000 times in a year to flag up domestic abuse incidents.
Operation Encompass is aimed at ensuring police or the council informs a school before lessons start for the day when one of its pupils has been exposed to abuse at home the night before.
It should mean staff can make sure appropriate support is in place to give the child the help they need.
Her younger brother woke up and came downstairs to see his father scrubbing the floor in the living room while his mum's body was wrapped in a rug.
Hemming, who then dumped her body in woodland, was jailed for at least 20 years.
The teenager, who is now being brought up by her aunt and living in West Yorkshire, said being caught up in domestic violence had had a strain on her learning.
"There was just so much going on around me and it distracted me all the time and it would keep me up at night meaning I was tired the next day at school," she said.
Kirstie, who is now training to be a domestic violence ambassador at her school, said Operation Encompass was crucial in giving child victims a voice.
"When you go through something like that you need the support and you need someone to talk to and someone to help you."
Domestic abuse and children
About one in five children in the UK has been exposed to domestic abuse
Domestic abuse is a factor in over half of serious case reviews
A third of children witnessing domestic violence also experienced another form of abuse
One in five teenagers has been physically abused by their boyfriends or girlfriends
Operation Encompass was first set up in Cornwall in 2011 by primary school head teacher Elisabeth Carney-Haworth and her husband David, who is a former police officer.
It started after Mrs Carney-Haworth noticed the behaviour of a six-year-old boy at her school had suddenly changed and it was not until months later she found out he had witnessed a violent domestic incident at home.
Angered that she had not been informed and was therefore unable to properly help him, she shared her frustrations with her husband and out of that the scheme was born.
Since its introduction, it has been adopted in some form by 33 out of 44 police forces across England and Wales and the pair are pushing for it to be made compulsory.
Figures obtained by the BBC through Freedom of Information requests revealed that between September 2017 and July 2018, authorities alerted schools tens of thousands of times.
Every police force was asked how many times it had contacted schools and 35 replied. Of those, 24 said they used the scheme but only 17 forces could provide figures on how often it had been implemented. Those 17 forces said they had contacted schools on a total of 46,591 occasions.
In North Yorkshire, the scheme has been taken up by almost every school, including All Saints School in York.
Since it started there, the safeguarding team has been contacted by police on average twice a month about children witnessing domestic abuse.
Jo Sandwell, assistant head, said: "Prior to this there would be students living in violent home situations and we as a school would not have any idea.
"We would see the consequences of that, perhaps in behaviour or a child being a bit more withdrawn.
"Once you understand you can then provide real support."
If you, or someone who know, have been affected by domestic abuse, you can contact the BBC's Action Line.
Related Internet Links
The BBC is not responsible for the content of external sites.