Why Midlands' 'gap tooth high streets' need fillings
Patrick Burns
Political editor, Midlands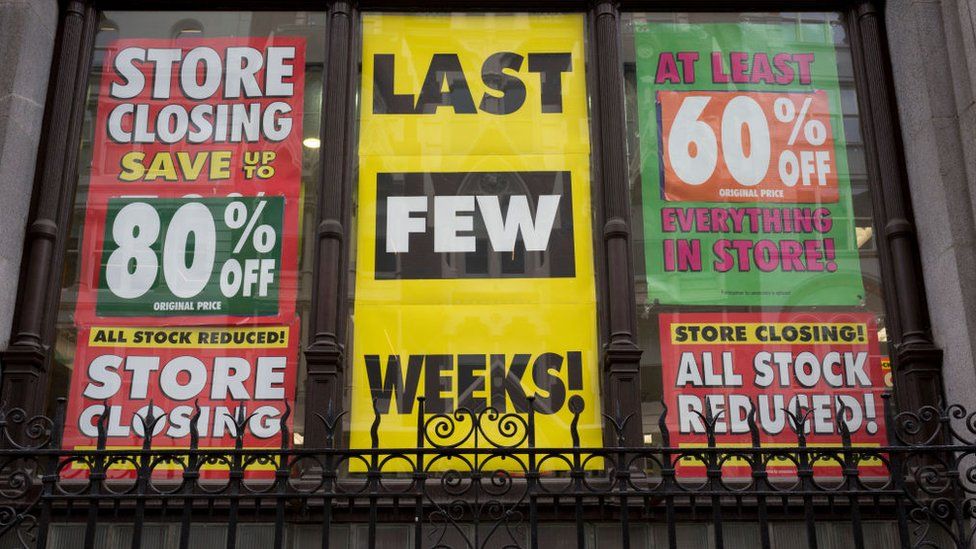 Q: What spells the decline of our high streets?
Most of our leading parcel delivery companies read like some sort of alphabet soup. But the umbrella group which partners the UK's leading courier businesses sounds like an example of good old-fashioned plain English, even if it does involve two words being nailed together on the altar of e-commerce:
ParcelHero. (So why has it just failed my spell-checker?!!)
It was the Chancellor, Philip Hammond, who coined the idea of the "gap tooth high streets".
That's why his recent Budget contained a £650m Town Regeneration Fund and the promise that 90% of small high street shops, pubs, restaurants and cafes would have their business rates cut to only one third of what they pay now.
A few days before that, the West Midlands' Conservative "Metro" Mayor, the ex-John Lewis boss Andy Street, was in Walsall to name it as one of five towns in his combined authority area which he intends to target for a regeneration initiative of his own.
His vision clearly involves reducing their dependence on shopping.
Pointing out that transport links so often converge in town centres, Mr Street suggests it may make sense to concentrate primary health resources and home-building there. He and the Chancellor both talk about freeing-up unwanted commercial sites for housing developments.
High streets may have a better future as social, cultural, artistic, and sporting meeting places: surely we can't allow our towns to become the exclusive preserve of tanning studios, charity shops, bookies and takeaways.
It's all well and good for Mayor Street to canvass regeneration gambits. But what about those places, like Kidderminster in Worcestershire, which lie just outside the conurbation but which face exactly the same challenges?
Anyone who has visited the Worcester Street and Crown House areas of the town will tell you they are depressingly familiar examples of that "gap tooth" phenomenon. The latest figures for empty shops are more than five years old. So much has changed since than that our Hereford and Worcester political reporter James Pearson volunteered to count them all himself! He found no fewer than 53 empty shops and retail units in Kidderminster town centre.
The town has the Wyre Forest and Worcestershire councils looking after its interests of course. But maybe it might also benefit from Mr Street's retail experience if it were just a stone's throw away on the other side of the county line?
Wyre Forest is one of those "non constituent" members of the West Midlands Combined Authority which are able to belong to other local authority groupings at the same time. But their residents do not have a vote in mayoral elections and their council leaders do not sit on the WMCA board. It's rather like country membership of a golf club: fewer obligations but fewer benefits too.
Could this, perhaps, make the case for it to convert its membership of the WMCA to the exclusive relationship which is currently confined to the seven metropolitan councils? An active debate has been under way for some some over whether or not other non-constituent areas, including Shropshire, Telford and Warwickshire might become full members of the combined authority.
That is one of the questions I'll be asking Wyre Forest's Conservative MP Mark Garnier when he joins me in the Sunday Politics Midlands studio this weekend. Also with us will be Gareth Snell, the Labour MP for Stoke Central. That's another city with more than its share of vacant retail sites.
And we'll be joined, too, by a leading authority on retail trends. Professor Isabelle Szmigin of the University of Birmingham is the author of a book entitled "Consumer Behaviour".
And I hope you will join us too at 11.00 on BBC One West Midlands and throughout the country on BBC One HD this Sunday 18 November 2018.