Ford EcoBoost fires: Owners 'being passed to insurers'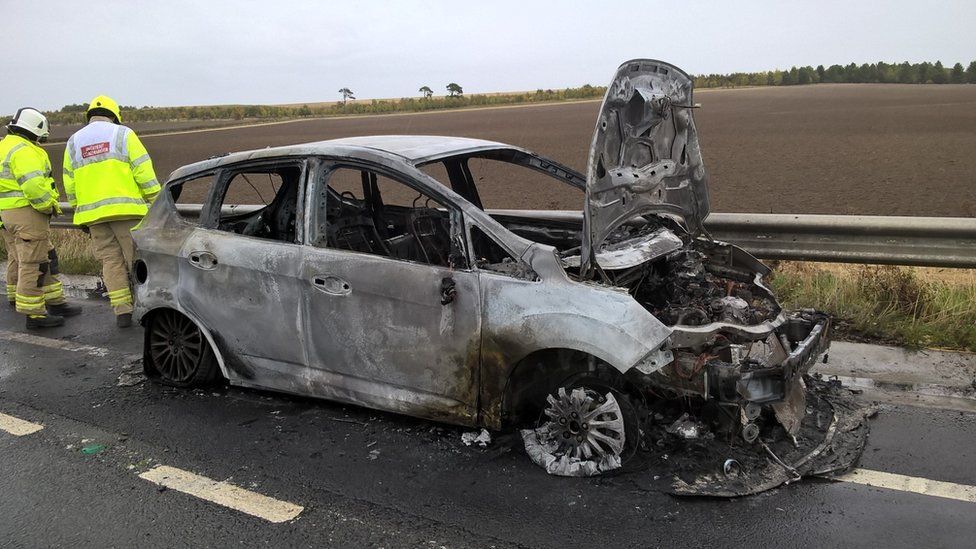 Ford drivers whose cars have burst into flames say they are still being passed to their insurers, despite claims the company investigates them all itself.
Ford chairman Andy Barratt told the BBC in October the firm was aware of two fires in its EcoBoost engines and both had been looked into.
But the BBC has spoken to 17 people who have experienced fires in 1.0 and 1.6 litre EcoBoost engines since 2015.
Ford said it could only investigate if insurers gave it access to vehicles.
The BBC is aware of 18 cases, 17 of which have been reported to Ford.
In most cases, Ford told owners to claim on their insurance, leaving them out of pocket and without an answer as to what caused the fire.
Ford said it would not discuss individual cases publicly due to confidentiality, but said it had written to insurers to emphasise its willingness to conduct joint forensic investigations.
It said a number of factors could cause vehicle fires, and it must not be assumed it is a manufacturing defect.
The company has already offered to refund thousands of pounds to customers whose 1.0-litre EcoBoost engines have overheated, causing them to fail.
It has now told the BBC it will extend this offer to customers whose 1.6-litre EcoBoost engines fail, although this does not apply to those whose cars catch fire.
Ford said it had issued a voluntary safety recall through the Driver and Vehicle Standards Agency (DVSA) in January on certain vehicles including the Focus, Kuga, C-MAX, Fiesta ST and Transit Connect models built between 2010 and 2015.
The company has been aware of the issue on the 1.6-litre EcoBoost since 2012, after several engine fires in the US. A recall was issued there in 2014.
A spokesman said of the 18 engine fires reported to the BBC, eight could not be processed as insurers did not grant access to the vehicles, and six were not Ford's fault.
"The other two investigated were reimbursed. The balance comprises one repaired at Ford's expense and the other yet to be inspected," he said.
'Smoke and flames shot out from under the bonnet'
Keith Jowett from Barnsley, South Yorkshire, was driving to Southampton with his wife Margaret when his car burst into flames in September.
The couple were on their way to board a two-week cruise when their 1.0-litre C-Max caught fire.
"I was travelling on a dual carriageway, and suddenly there was an almighty bang from under the bonnet," he said.
"My first instinct was to put my foot down on the brake and the clutch, but there was no clutch.
"Immediately smoke and flames shot out from under the bonnet and I spoke to my wife and said 'you must get out quickly'."
His wife, who has mobility problems, managed to get out in time.
Mr Jowett said: "That was the end of our holiday, we lost all our luggage, my wife's mobility scooter which was in the back of the car, our passports and so on."
After the fire, the couple realised there was a safety recall on the car, which affected 122,000 vehicles, but Mr Jowett said he had not been notified.
He said Ford had ignored his questions as to whether the fire was connected to the recall.
On 23 October, Mr Jowett was told by Ford to contact his insurers - three weeks after the chief executive said customers need not go through their insurance, but could contact the company directly.
Lillian Greenwood chairs the government's Transport Select Committee and has written to Ford to ask what it is doing to keep drivers safe.
"We want to know what investigations they are doing to get to the root cause of the problem," she said.
You can see the full story on BBC Inside Out Yorkshire and Lincolnshire at 19:30 GMT on BBC One on Monday 19 November or via iPlayer afterwards.
Related Internet Links
The BBC is not responsible for the content of external sites.