Bristol artist creates giant Romeo and Juliet murals
By Caroline Le Marechal
BBC News, Bristol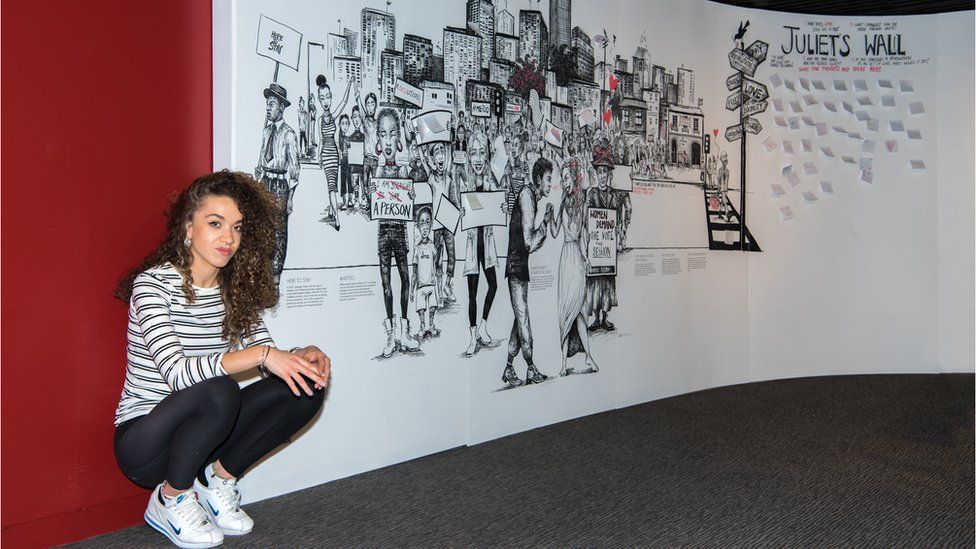 An artist has created giant murals of Romeo and Juliet for the Royal Shakespeare Company (RSC) to "attract a younger, more diverse audience".
The artwork - Love As A Revolution - by Bristol-based Jasmine Thompson, 24, was originally shown in Stratford-upon-Avon but has been recreated in the Barbican for the RSC's London season.
Ms Thompson said it was an "honour to recreate the work a second time".
Toni Racklin, from the Barbican, said it was "great to bring it here".
Jo Whitford, from the RSC, said: "Jasmine came up with the idea to focus on themes of love and unity, and the importance of making a stand for what you believe in.
"The results of the exhibition were great - a life-size illustration featuring real-life moments in history wrapped around the gallery walls and invited visitors to join in, by adding their own messages and drawings on simple post-it notes.
"So many of those messages were truly inspiring and thought-provoking, from visitors young and old."
Ms Thompson said: "It was also designed to attract younger audiences to the space, and it was vital for me to appeal to young people of all classes and races too.
"I wanted to give people a platform for their voice to be heard, and designing a piece that had such cultural and political elements seemed like a great way to get people to speak up and get involved.
"I also want young artists and creatives to look at the work on the walls of somewhere like Barbican and feel like making artwork that's meaningful or important is possible."
The exhibition runs at the Barbican until 19 January.
Related Internet Links
The BBC is not responsible for the content of external sites.