Fly-tipping discovered 2,700 times a day in England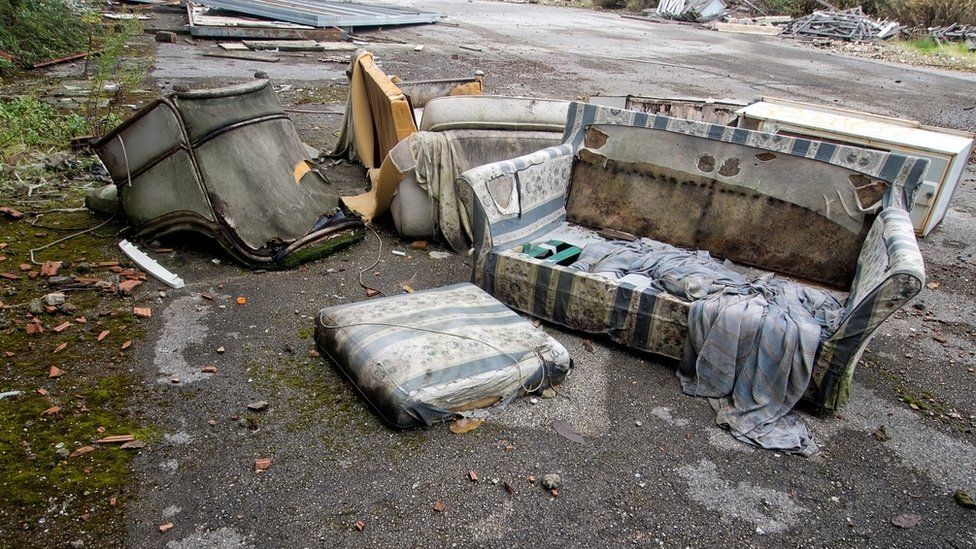 Almost one million crimes of fly-tipping were reported by councils across England during 2017-18, the first fall in five years.
Councils recorded 997,553 incidents of illegal dumping, an average of more than 2,700 a day.
It was a slight decrease on the 1,011,000 in 2016-17 and is the first time the figure has dropped since 2013.
The government said two-thirds of fly-tipping involved household waste.
It did not reveal the total cost to taxpayers of clearing fly-tipped rubbish, saying the estimates were "outdated".
The Department for Environment, Food and Rural Affairs (Defra) said 69,000 fixed penalties were issued during 2017-18, a 20% rise on the previous year.
Councils were given the power to issue on the spot fines of up to £400 to fly-tippers in 2016.
The government is planning to extend fines to householders who pay someone else to take their rubbish away, if it is then fly-tipped.
The change is expected to take effect by the end of the year but a date has not yet been set.
You may also be interested in:
Rates of tipping varied across England.
In Hammersmith and Fulham there were 18,652 incidents, equivalent to about one for every 10 people living in the London borough.
However, a spokesman said the council had made it easier for people to report fly-tipping via a mobile phone app and was "ruthlessly efficient" at removing rubbish.
"These figures just don't reflect reality," he said. "Independent surveys recently showed our streets are the cleanest they've ever been."
In Birmingham, fly-tipping was up 8% on the year before.
The Alum Rock Community Forum has been advising residents of how to contact the city council and report fly-tipping, but also remove bags of rubbish and other dumped waste themselves.
Javed Iqbal from Bordesley Green chairs the forum and said: "This is about a lack of respect for the area and a lack of education. There's no excuse for it.
"We've taken van-loads of waste to the Birmingham tips and it's easy and free. They're open every day."
Father-of-three Mr Iqbal said the threat of fines was not a deterrent.
"It's difficult to trace people because most people don't leave their name and address with their rubbish. Unless we empower people to take pride again, nothing will change."
Gary Palin from Crewe started a Facebook group for people to highlight fly-tipping. It now has more than 1,000 members.
The 39-year-old lorry driver said he thinks councils need more powers and to be willing to use them.
"There will be lots of opinions on this but I think for most people it's simply find out who's doing it and stop them," he said.
"A knock on the door from a council officer and an informal chat would be enough to change their behaviour. Unfortunately some people will only learn if it hits their pocket."
He also suggested councils dispose of bulky items for free for people who could not afford the charges.
'Environmental vandalism'
Authorities are trying different methods to encourage people to throw away bulky waste responsibly.
Councillor Martin Tett from the Local Government Association said fly-tipping was "unsightly and unacceptable environmental vandalism".
"New fixed penalty notice powers from the government will help but every single conviction for more serious fly-tipping offences still results in council taxpayers having to pick up the bill," he said.
"Manufacturers can also contribute, by providing more take-back services so people can hand in old furniture and mattresses when they buy new ones."
A Defra spokeswoman said: "New fixed penalty notices for householders who pass their waste to a fly-tipper also come into force shortly, as we continue our efforts to crack down on those who blight our landscapes."
Related Internet Links
The BBC is not responsible for the content of external sites.