World War One: Trees planted to honour fallen footballers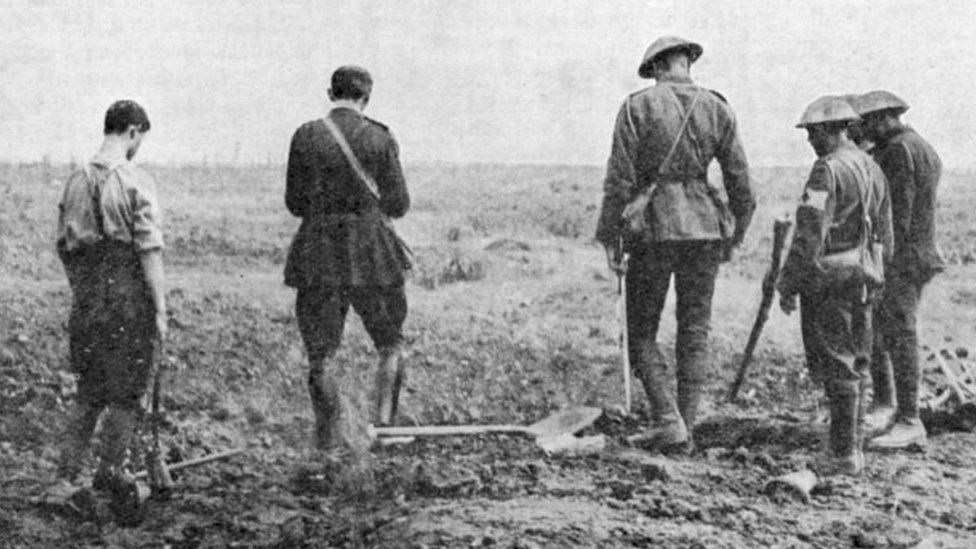 Trees commemorating professional footballers who died in World War One have been planted around England and Wales.
Most of the 92 clubs in the Premier and Football Leagues are participating in the Football Remembers campaign to mark the 100th anniversary of the conflict's end.
They have been planting groves of trees supplied by the Woodland Trust.
The North West of England has always been a hotbed of football, and the region sent some of its finest players off to fight in the trenches.
Here we remember some of those who served their country and, in many cases, paid the ultimate sacrifice.
Physically imposing on the pitch, goalkeeper Leigh Roose was known for clattering opponents before launching counter-attacks.
He was a colourful character too. When he wasn't called into action during games, he would joke with supporters, swing from the bar, or even perform gymnastics.
Off the pitch, Roose was equally famous for his antics. He once chartered a train to carry him - and only him - from London Euston to Birmingham so he could play for Stoke City at Aston Villa.
Roose was killed, aged 38, near the end of the Battle of the Somme.
While the exact location and manner of his death remain unclear, what cannot be contested is his bravery.
His regimental history cites: "Private Leigh Roose, who had never visited the trenches before, was in the sap when the flame thrower attack began. He managed to get back along the trench and, though nearly choked with fumes with his clothes burnt, refused to go to the dressing station.
"He continued to throw bombs until his arm gave out, and then, joining the covering party, used his rifle with great effect."
He was awarded the Military Medal.
Alexander "Sandy" Turnbull was celebrated as one of the top goalscorers of his era.
The 1907-08 season was to prove the most prolific of his career. Scoring 25 goals in 30 games, Turnbull was the catalyst of United's league triumph - the first of the Red Devils' 20 top-flight crowns.
The following season his goal helped United win the FA Cup. Soon after, United moved to a new stadium - Old Trafford - where Turnbull scored the first goal in a 4-3 loss to Liverpool.
At the end of the 1914-15 season, though, he was one of seven players found guilty of illegal betting and given a lifetime ban by the FA.
Towards the end of 1915 Turnbull joined the 23rd (Service) Battalion of the Middlesex Regiment, better known as the 2nd Football Battalion.
He took part in the British spring offensive east of Arras that began on 9 April 1917.
He simply disappeared in the fog of war.
While it remains unclear exactly what happened to him, a letter was sent to Turnbull's wife by a fellow soldier which said that after being wounded "Alec led his men for a mile, playing the game until the last we saw of him. We all loved him, as he was a father to us all".
There was initial hope that Turnbull may have been taken prisoner, but it was later confirmed that the 32-year-old was officially presumed killed.
He left a widow and five children.
Turnbull has no known grave and is one of the 34,795 names commemorated on the Arras Memorial to the Missing.
Edwin "Eddie" Mosscrop, a winger who won two England caps, combined football with a full-time job as a schoolteacher.
He was a member of both the Clarets' FA Cup winning side of 1914 and the all-conquering Championship outfit of 1920-21.
A pacifist, he obtained an exemption from military service during World War One after appearing before a Military Service Tribunal in Southport.
Nevertheless, he joined the Royal Army Medical Corps and served in Salonika, northern Greece, rising to the rank of staff-sergeant.
Mosscrop was the last surviving pre-World War I England international when he died in March 1980.
Wilfred Bartrop spent five seasons at Barnsley, winning the FA Cup, before moving to Liverpool in 1914 for a reported fee of £900 - the equivalent of nearly £100,000 today.
The outbreak of war cut short his hugely promising Anfield career after only three games.
After working as a collier, he joined the Royal Field Artillery.
Bartrop arrived in northern France on 13 June 1918 and went into action soon after near the town of Cambrai.
On 7 November his unit was tasked with providing trench mortar support for an infantry attack.
Bartrop and his battery came under heavy fire from enemy artillery.
Unable to find adequate cover, he was severely wounded in the legs and chest.
Bartrop died from his wounds soon afterwards, aged 30.
Patrick "Paddy" McGuire joined Manchester City from local side Hurst in 1912 after a brief amateur spell in the reserves at Manchester United.
He joined the Army following the culmination of the 1914-15 campaign and was posted to Cleethorpes where he agreed to play for Grimsby Town.
He made a total of 31 wartime appearances during the 1915-16 season, scoring six goals.
McGuire later took part in heavy fighting at Montauban, Trones Wood and Guillement before returning to the Somme for an assault on a system of trenches near the village of Flers on 12 October 1916.
His battalion suffered heavy losses from enemy machine-gun and artillery fire. By nightfall they had recorded casualties of 213.
The 50 fatalities included 28-year-old L/Cpl McGuire.
Later that month Athletic News reported: "That something had befallen him had been feared for three weeks past, as Mr Hickson did not receive any acknowledgement of the letters and parcels of comfort which he and his wife make a practice of dispatching regularly to the 'boys' at the front.
"On Saturday came the sad official news that M'Guire [sic] was no more."
McGuire has no known grave and his name is listed among the 72,194 on the Memorial to the Missing of the Somme at Thiepval.
Preston North End and Blackburn Rovers
In one German raid in the summer of 1916, more than 60 men serving in the Bradford Pals Regiment were killed.
Several were captured, including the former England international Richard Bond, known as Dicky.
Before the war, the outside-forward had been a regular soldier with the Royal Field Artillery.
He was discharged in 1902 after being "bought out" by Preston North End.
He enlisted again in April 1915, though, and even led a personal recruitment appeal at half-time during Blackburn's match against Bradford Park Avenue.
Such was Bond's fame as a footballer - and so good their enemy's intelligence - that German troops are said to have called out to the Bradford Pals to say they knew he was among them..
"A number of Germans had worked in England before the war and were well aware of English football culture because of touring teams as well," said Dr Alexander Jackson, collections officer at The National Football Museum.
"England was known as the home of football and Bond was a recognisable player."
Bond spent the next two years as a prisoner of war in Germany before returning to England in 1919.
He resumed his sporting career, appearing for Bradford City until 1922 before spending a season with Blackburn Rovers.
Edward "Teddy" Bullen joined the Shakers from Altrincham FC in 1906.
He made his first-team debut the following year and, by the outbreak of World War One, had made 188 appearances as a wing-half.
Like many of his contemporaries, Bullen signed up for the war effort but continued to play for the club during war-time fixtures whilst on leave from the front.
Bullen played for Bury against Liverpool as late as 3 February 1917.
Just six months later, on Saturday 11 August, he was killed in action at Vaulx-Vracour.
A memorial to him still hangs in the boardroom at Gigg Lane.
It honours "a playing member of this club who fell in action at Vaulx on the 11th day of August 1917. Loyal to this Club, loyal to his Country. He died playing the greater game".
Tommy Barber was an intelligent and enterprising half-back who spent most of his career at Bolton Wanderers and Aston Villa before the start of the war.
In February 1915 he joined 17 Middlesex - also known as the Footballers' Battalion for its core of professional players permitted to return to their clubs at weekends to fulfil the remainder of the 1914-15 season.
In August 1915 the Battalion was deployed overseas, and experienced its first taste of life in the trenches near the mining town of Loos.
Later, Barber suffered leg wounds while fighting in the Somme and was evacuated home.
After treatment, he was transferred to the Labour Corps before undertaking munitions work in Glasgow.
Following the Armistice, he had brief spells at Merthyr Town, Ton Pentre, Pontypridd and Walsall.
He also turned out for Belfast Celtic and Linfield - a rare occurrence as the clubs were bitter rivals at a time of sectarian unrest
Barber suffered recurring ill-health after the war and spent significant time in hospital.
Aged 36, was struck down with tuberculosis in 1925, and never recovered.
Football fans can visit www.forclubandcountry.org.uk for more information about the campaign.
Related Internet Links
The BBC is not responsible for the content of external sites.