Ellie Soutter Foundation awards snowboarder Maisie Hill £6,000 grant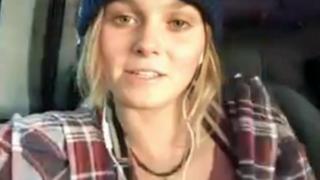 A former team-mate of snowboarder Ellie Soutter is the first athlete to benefit from a fund set up in her memory.
The initial £6,000 grant from the Ellie Soutter Foundation has been awarded to promising young talent Maisie Hill.
Ellie, who grew up in Oxted, Surrey, before moving to the French Alps, died suddenly in July, having suffered financial and mental health pressures.
Her family set up the foundation to honour the memory of Ellie, who died on her 18th birthday.
Following her death, Ellie's family pledged to raise funds to provide support for promising winter-sports athletes in the UK.
Her father, Tony, revealed the identity of the first beneficiary to the BBC at the London Ski Show.
He said: "She's got amazing potential."
'Ellie would be happy'
Maisie, 17, is a junior GB park and pipe snowboarder, who has won international titles at adult and junior level and - like Ellie - is considered to have Olympic potential.
She said: "I'm really honoured because I knew [Ellie] really well. I think she would be happy to know that she's helping other people, and I know that she knew how hard it was... for the financial support, as well."
The award will provide help with equipment, training, travel and attending competitions, enabling promising winter sports athletes to follow their dream.
Maisie added: "It can be really hard, but you've just got to learn to love it. My dad worked so hard to make this possible for me. It's so nice to know he can just chill out now.
"I know that [Ellie's] dad did a lot for her, and now her dad is doing a lot for other kids. I think that's really cool, and I think she'd be proud."