Manchester Arena attack: Newspaper payout over "wholly false" claim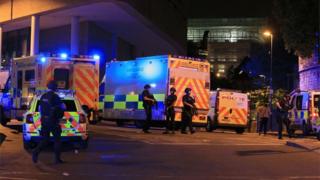 A Libyan man arrested after the Manchester Arena terror attack has won "substantial" damages over false newspaper allegations he was an "Isis sympathiser".
Alaedeen Sicri was arrested because suicide bomber Salman Abedi called his phone number in the days before the attack, the High Court heard.
Abedi killed 22 people and himself outside a concert in May 2017.
Publisher Newsquest admitted the report was "wholly false" and apologised.
Mr Sicri, now 24, of Shoreham, West Sussex, was released without charge.
His barrister, Sara Mansoori, told Mr Justice Warby that her client had "nothing whatever to do with the attack and had no connection or affiliation with the bomber or other terrorists".
On 31 May 2017 the print edition of Brighton-based newspaper The Argus, published by Newsquest, referred to Mr Sicri's arrest and made "serious allegations about him, suggesting he was an "Isis supporter", Ms Mansoori said.
She explained that her client had run an online business assisting individuals in Libya to make purchases from websites such as eBay and Amazon while he trained to be a pilot.
His details were visible on a Facebook page used by Libyans for currency exchange.
Ms Mansoori said that Abedi contacted her client because he wanted to transfer money to Libya, but Mr Sicri hung up because he was suspicious of a scam.
She told the court: "He is opposed in the strongest possible terms to all violence done by Isis, including the Paris and Manchester attacks."
Mr Sicri had been caused "very great distress, anxiety and damage to his reputation" by The Argus' report, Ms Mansoori added.
Daniel Bishop, representing Newsquest, told the court his client wished to "publicly apologise" to Mr Sicri and would pay a "a substantial sum in compensation and his legal costs".
The sum to be paid to Mr Sicri was not revealed in court.